What if we told you we left this Minty Sears Lantern on the Freezing Lake Erie for not just one month, not just two months but for 5 months !! And it Started right up!!

What would you say??!!

Thanks to the Sears Die Hard Lantern..sold only at Sears!!

For those who say you can not find a Sears in California...I say you can find a Sears in California...a Sears lantern.
Here is my newly found 6/1972 Sears Dualie Die Hard Lantern. Well it is in Minty shape and she fired up really nicely so why not call her a Die Hard...plus back then the Die Hard battery was all the rage.
The source of this Lantern is top secret and will remain so until I remove all his treasures or my wife beats the heck out of me....she loves the color and big hat on the Sears...so maybe I am safe for a week or two.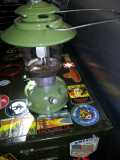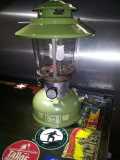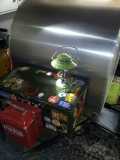 My son and I did a little light up on the back porch in hopes of priming his interest in lanterns and vintage camping. He is in scouts and mostly a good boy. He seemed to like the mechanics of it all so may look for his own lantern soon.

Shady