Found this cute little red metal storage box that says Anthes Force Oiler Fort Madison Iowa.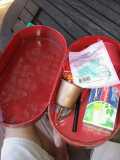 Does anyone know what this would of had in it originally??
I am from the west coast so I assume this has to do with heating oil for your homes or businesses back east?

I gave a couple of bucks at a flea market to put my lantern parts in it.


Thanks for the help in advance.
Shady