I just got home from the dump and a man putting off trash started to throw these away I asked if I could have them and I now am their owner. I have no Idea what I now have. the stove is model 425 D I have used Coleman stoves but much earlier models. They need to be cleaned up Heavy rust on the stove and parts and the gas tank paint is falling off . do they go together?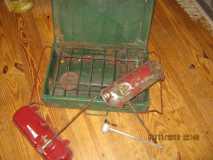 I am not familiar with these the man said he had a new propane stove and not needing these
Mary C.

Thanks for any help you can give.