A buddy of mine bought a house that was loaded with stuff stored under it. The previous owners didn't want it so he cleaned it out and found this. I did some work for him so he gave me the lantern.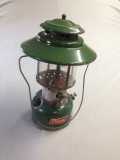 It still has fuel in it and one of the mantels came off. It does have some paint missing but looks like its in good shape other wise. I'm able to turn knobs and pump but I haven't tried to light it yet. .

What do I have and what is it worth?