I'm a big fan of most of the pre-war design items, love the deco look, but anything prior to '60 is fair game for me. There are a lot of items out there that are relatively unnoticed anymore. Waffle dogs for one, and it's largely due to the participants here that helped them gain their fame again! Watch the garage sales and thrift stores for things like the following items or any other sort of kitchen gadget. Most people don't want to mess with them anymore, as there is usually some new item that is much easier to "run out and buy". I prefer to put some effort into something that has some style, design and is better constructed. I have an electric waffle iron...but prefer my 1921 Griswold...easier to clean!
I have been gifted a number of items for restoration that were all the rage back in the day, but have fallen out of favor anymore as they take up space etc....
A neighbor who is a fellow teardropper (Dean Bessom) gave me a "Juice-O-Mat" yesterday that was his mothers. Prior to all the frozen concentrates, mostly with Mexican/ Brazilian oranges that are not as sweet as Ca. and Fla ones, this was a commonplace kitchen appliance to have in the home, if you lived around a lot of citrus. The beauty is there are only 7 parts in them. Anyone can get one and do a resto on it easily. Strip it, prime it and paint! The company that manufactured these was Rival, founded in 1932, well known for their cast items. This was patented in 1939...Exact year on the item who knows....It has a number of 1905 on it and some people think that's the year it was made...not so. I stripped it, scuffed the zinc casting and primed it in a couple of hours. It's going to get a 2 tone paint job, sea foam green and cream, hopefully I've still got the paint.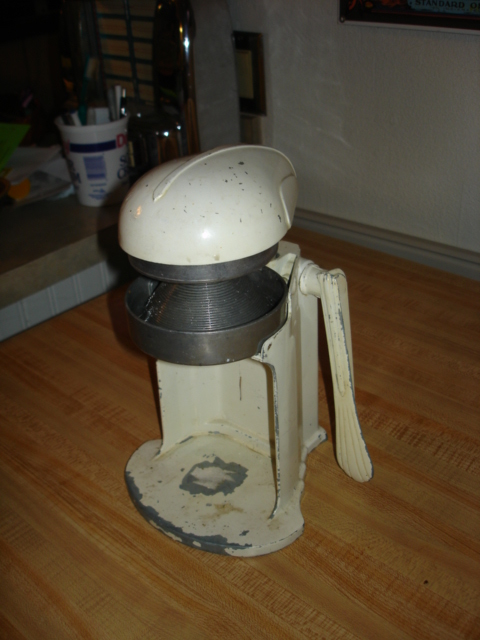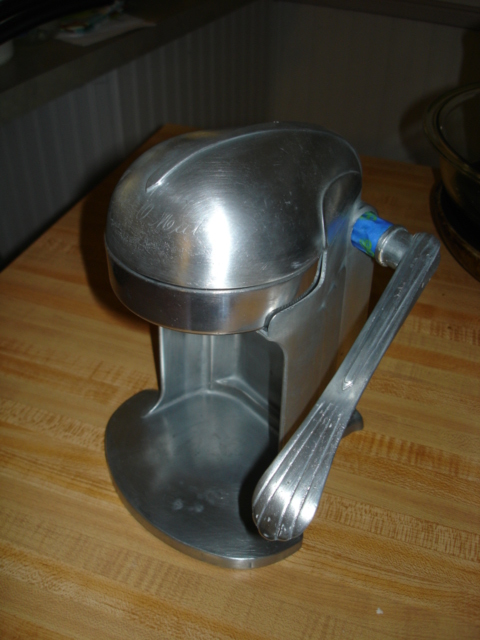 Another Rival item is the "Can-O-Mat". This was given to me by Dave A. This Can-O-Mats most recent patent date is 1945, again, they made them forever, so who knows the exact date on it. Probably at least 60 years +...still opens cans great! A bit trickier to tear down and redo, but it is also going to be done up in a sea foam green. I stripped it today as well. Everyone has seen these, most of us grew up with them, yet, few people want them now.
Also to be done is the Dazey Ice crusher. While they did make an Ice-O-Mat...I don't have one...looking, but Mike P. gave me this one. It will also be stripped and painted up in a yellowish ivory to match the existing. Any other color would look funky with the existing yellow rocket body bottom. Items like this were really popular in the mid century when the whole "cocktail" thing really blossomed. I plan on carrying on the tradition and this will be going with me in the Kamp King!
I am always on the look out for small items like this that can be brought back to life with a minimal amount of expense, and give people a lot of fun memories and joy. When they are completed there is nothing more satisfying than someone commenting, "gawd, I remember when we had one of these!"
Be vigilant...find some great stuff! Doug