On Saturday my friend Karl and I went to the annual tractor show and swap meet at the
Zagray Farm Museum
. There were lots of vintage farm tractors, garden tractors, doodle bugs, tools, collectables and other big boy toys to drool over.
I was on the lookout for a few specific tools, and any Coleman items that I might come across (I did pretty well on both counts, but will keep you in suspense for now).
Come spend the day with us.
This doodle bug had a Mopar drive train with manual transmission and narrowed rear end. Gearhead cool.
This Go Kart was a genuine vintage build from the dawn of an era. Must have been from the 50's or 60's. More gearhead Cool.
The farm is an open air museum with a working sawmill, drag shovel, and other vintage heavy equipment. I suspect that these cedar timbers came from the mill, but all I could think of was how many TD's might be made from them.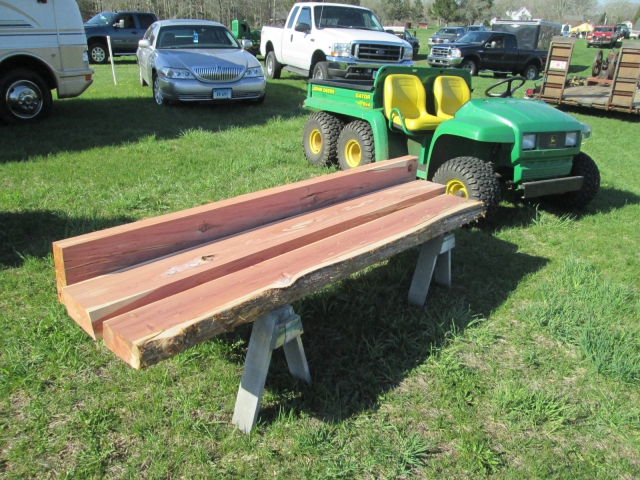 This snow machine was a bit of a conversation piece. It appeared to be home built, perhaps out of an aircraft belly tank. The steering wheel was from an MG and it had a Lycoming airplane engine with pusher prop. It was nearly barn fresh; someone had replaced the seat back with a new piece of ply and the propeller was new, but the trailer and patina said it was old.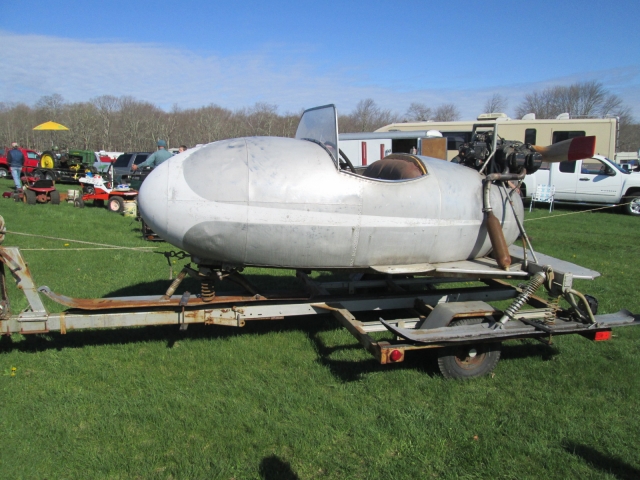 There was a guy there that did metal sculpture from found objects. He had some neat things, but this was my favorite.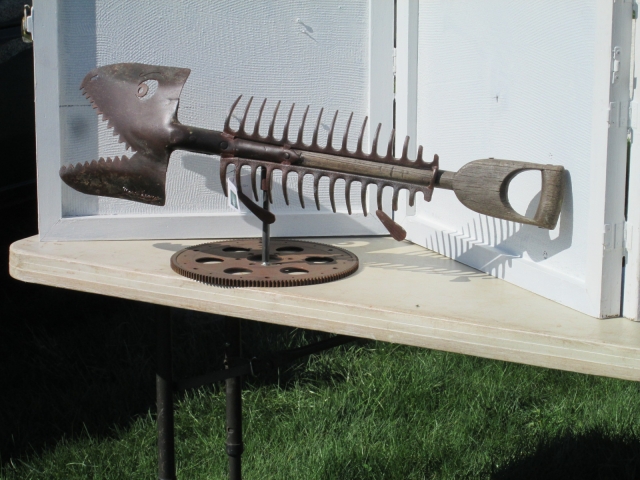 Okay, so there was definitely camping and trailer related stuff. This slide in had a weird wheeled stand rig on it with powered jacks. Looked like a DIY project. Didn't look at all practical for anything but mild terrain; hung down really low.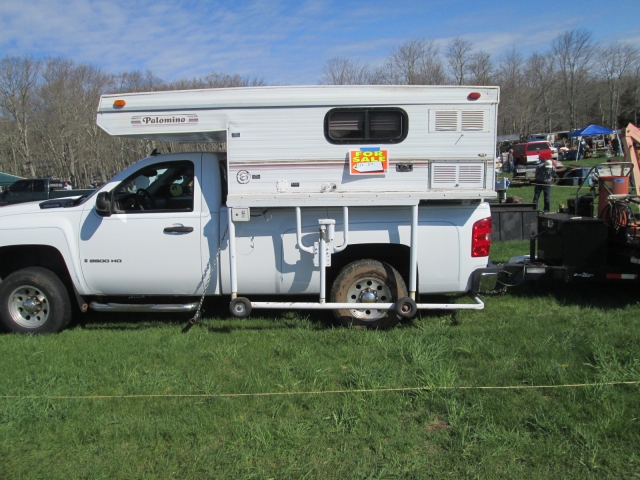 Hot rod tractor with 3 engines!!!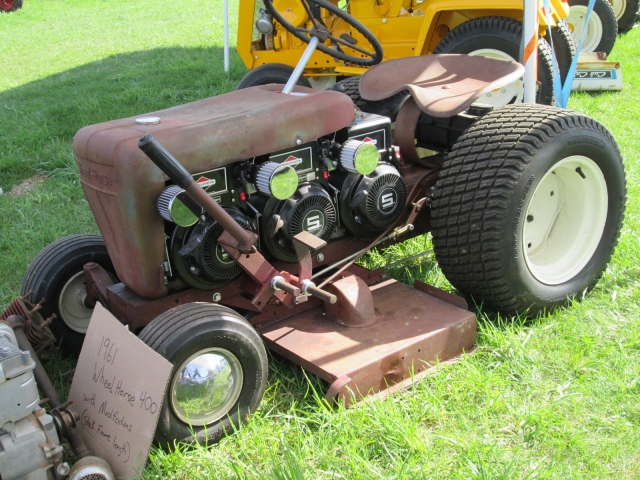 Hit and miss engine driven wood lathe was up and running.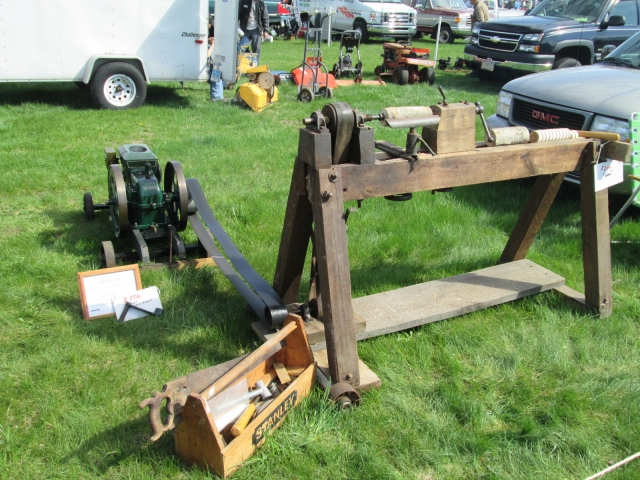 It's a 2 day show and they must let the vendors in on Friday to set up. This vendor had a bunch of smalls; machinist tools, including dial indicators, miniature vices and anvils, etc., and this survivor Scotty camper that looked to be his accommodations. He said it was a rare model and gave me the date, but I can't remember the specific year, early/mid 50's. In very good condition.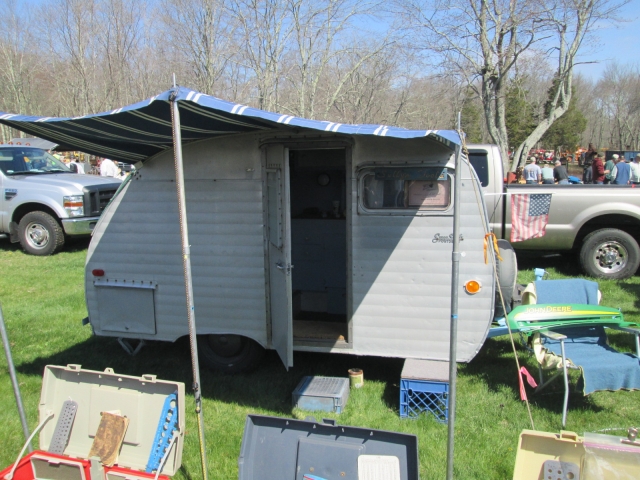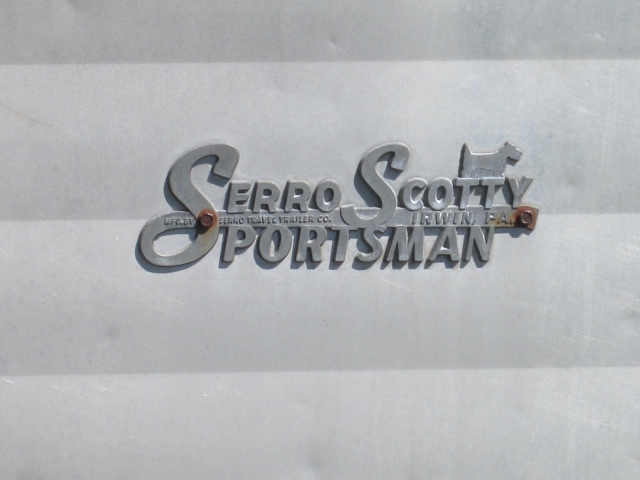 The tag on this clean 502 stove with box was $50. I guess the seller didn't really want to sell it.
Okay, here is the booty I scored. Nothing here was more than $5. The shovel ($5) will get mounted on TPCE along with an axe. It has a nice offset neck and cleaned up pretty nicely. The switch box (Karl gave $5) will get mounted in the loft where I'm building my TD and will be used as a remote operator for the 3 phase power generator needed to run my table saw (save me having to run up and down the stairs all of the time).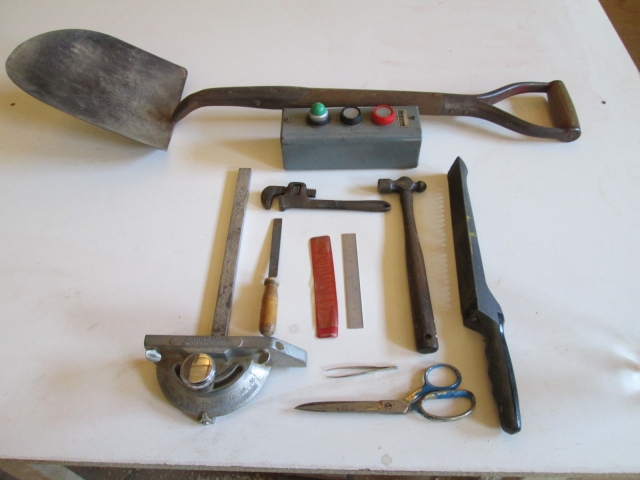 The vintage Craftsman miter gauge ($5) is the same as those we've seen on line for $40-$65. We can use it for optional setups on the table saw, or (since it fits the table slot a bit loose) may cut the guide bar down to fit my router table. The little 8 inch pipe wrench ($2) is something I will use at work, along with the baby ball peen hammer ($2 with the Wiss scissors). The scissors cleaned up nice and after sharpening cut paper very cleanly; I'll use them during the build. The tweezers (50 cts) will be used on the build for plucking masking tape; in fact I already have. The file with handle was added to that deal when the seller didn't have change for a dollar (so also 50 cts). It is an extremely fine cut, cleaned up nicely, and, like the tweezers, I have already used it on the build. The long Surform rasp ($2) is still sharp and should come in handy when I go to round over the edge of my roof foam. The Starrett steel rule ($5) will be used for more accurate table saw setup than the tape measure I have been using. It has 50ths and 100ths graduations on one side and 32nds and 64ths on the other.
So that was fun, but probably not why you came. Let's get to the good stuff!
The lantern is an "Ash Flash" with a Coleman 200A globe. I don't recall having heard of this brand. The pump looks suspiciously like Coleman, as does the fuel knob and top nut, but I'm no expert. The tank had some old fuel in it and looks pristine inside. I gave it a few pumps in the field to check it out, and it still had pressure in it when we got back to the shop. I think if I had put a mantle on it it would have fired right up! I didn't want to get too distracted away from the build right now, so I just did a primary inspection and quicky wipe down for now.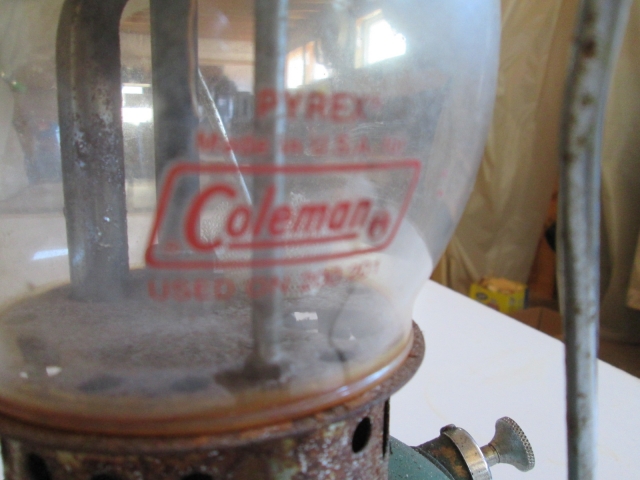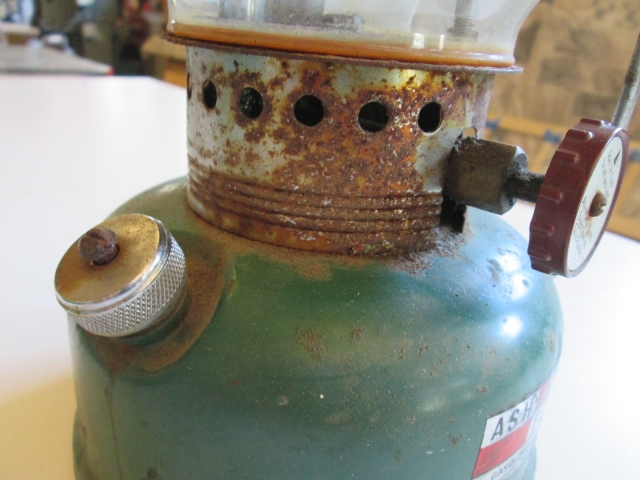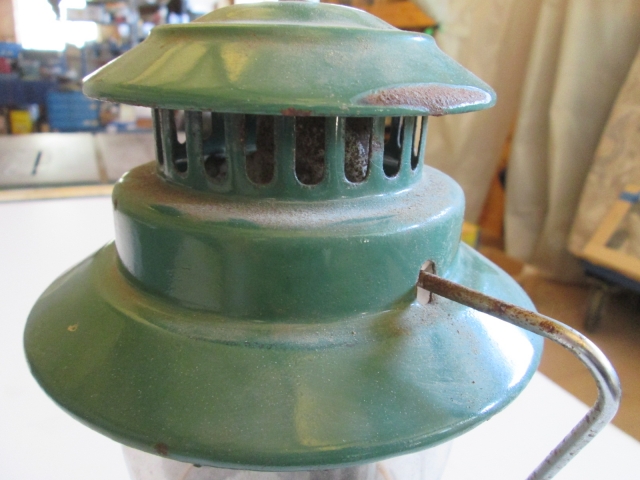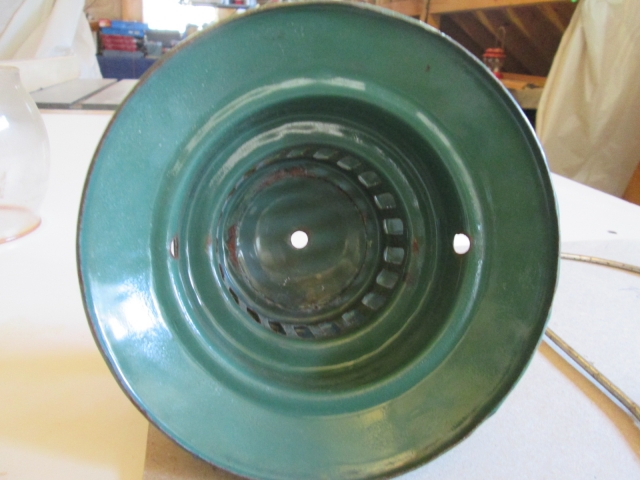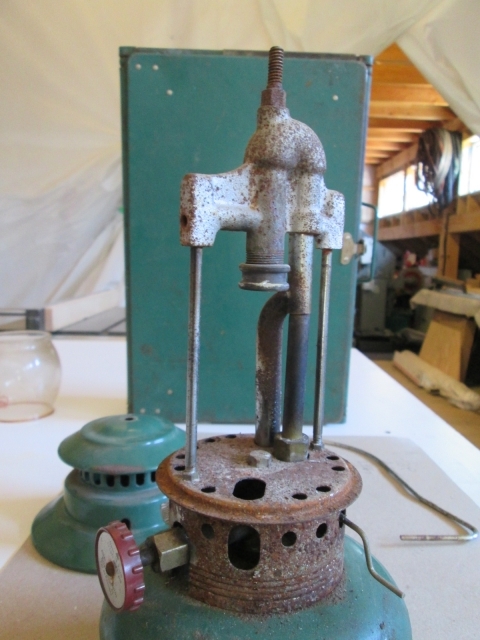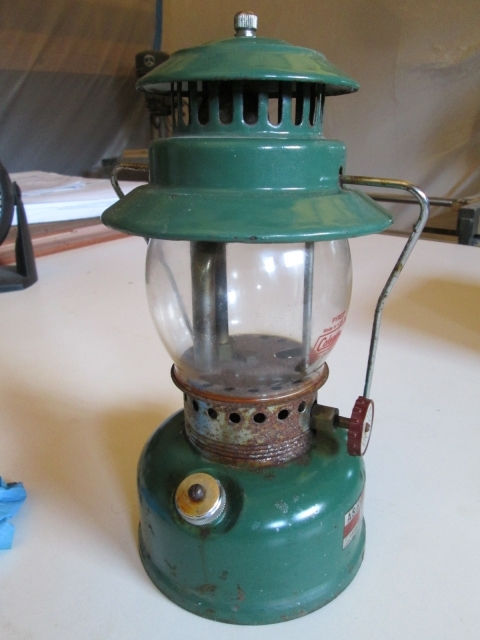 I missed a little something that was missing from the stove, but it has the burner pans that I don't remember seeing before, and the grate was in decent shape without any serious rust.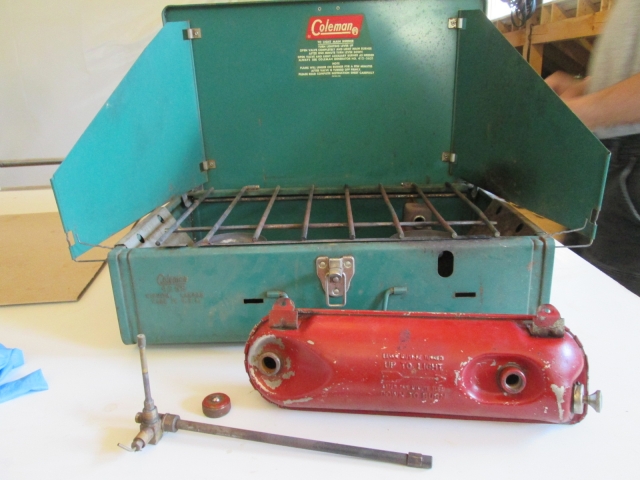 Other than this rust in the neck, the tank looks to be in good shape and held air when I put my finger over the thread bung and pumped it.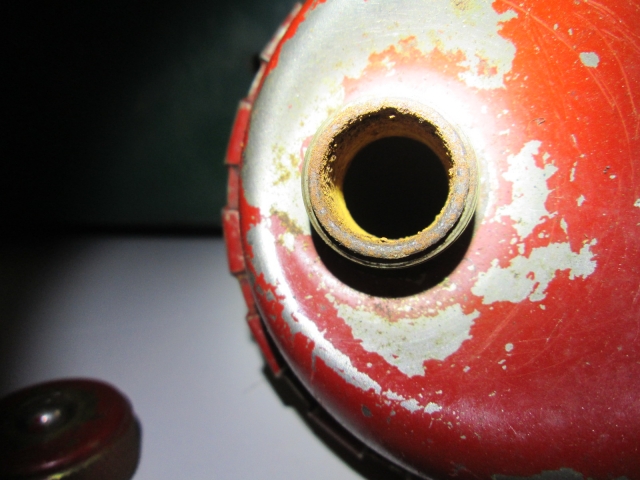 Thanks to a recent post by Jseyfert3, I knew where to look for the date stamp.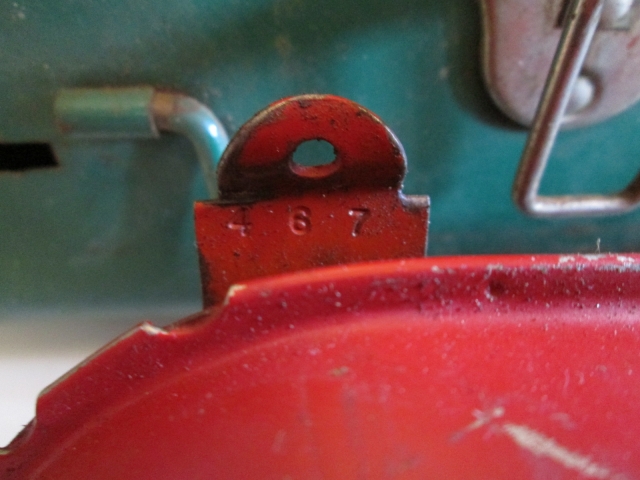 Once I got it back and set it up I realized what was missing… the main fuel valve.
The threads where the valve packing nut goes have been mark by pliers, but should be okay if I can get another valve with knob and nut (anyone have a parts stove or spares? I'd be willing to horse trade and pay shipping.)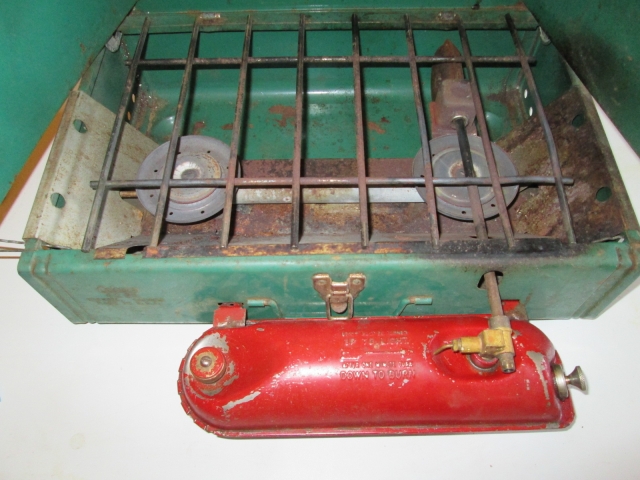 On closer inspection the grate is bent a little on the right side, and it has a small dent on the bottom under the front handle.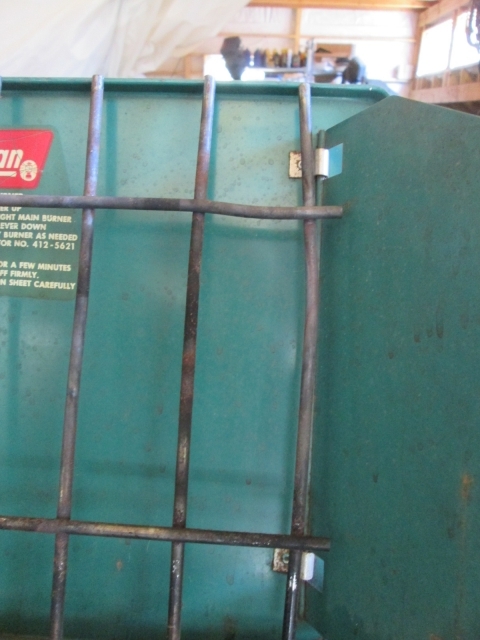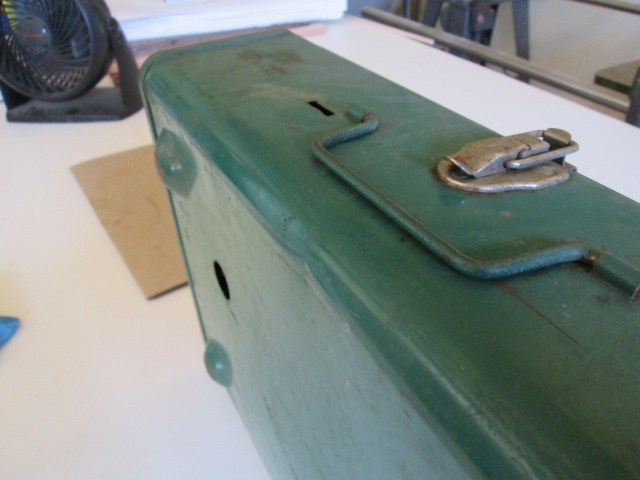 … and a little paint overspray on the right hand side.
Years ago the seller had bought an old P/U truck from Karl, so while they chatted I inspected. He also had a Coleman heater and wanted $30 for the lot. I wasn't interested in the heater (maybe should have been) so gave $20 for the lantern and stove. Maybe too much by western standards, but I think was a deal for northeast coast pricing.