Here are two of my three stoves, all Coleman.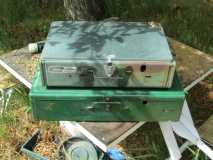 About 10 years ago I bought a used pop-up trailer to take my toddlers camping. It lasted 2 seasons with us, as I couldn't see spending $800 to replace the rotten canvas on a $200 trailer. (Little did I know I would eventually wish I had kept the decrepit thing for the chassis!) However, the gear box included in the trailer is still with us, and it yielded pots, pans, and a
propane Coleman stove
.
It bothered me to toss an empty little propane container or two after every camping trip, and I had grown up with my dad camp cooking on an old white gas Coleman, so I headed to the hardware store and found myself a
two burner dual fuel Coleman
. It didn't last long, though. I went camping with a group of people, some known to me, some not, and in the general packing up I ended up with a
grubby 425F Coleman
instead of my nice, new dual fuel (that I only ever used white gas in). It didn't burn very well, either, and I had my hands full of kids most of the time, so instead of looking on the WEB for instructions to clean it up and clean it out, I stuck it in the shed and dragged out that propane stove again.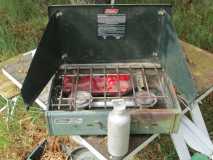 Last summer my step-mom (who is a youthful 73) got a bee in her bonnet about updating her will and making sure my brothers and I got what we wanted from the farm and house. She also thought there were some boxes in the shed from our grandfather's home, collected by each of us after his funeral. I'm the only one living within driving distance, so I headed up to check the shed (nope, it was actually a couple of boxes my mom had stored there, and she died without ever missing her tupperware and ash trays from the 70s). There was, however, a very nice Griswold 12 inch frying pan (probably my grandmothers, rescued by my dad when she modernized) and an old Coleman stove. I assumed it was the one we used camping when I was a kid, so in a fit of nostalgia I grabbed it (oh, yes, and the frying pan). Mind you, I called all 3 of my brothers and told them both of these were sorta collectors' items, and asked if I could have them. They all agreed I could just take them, thank you.
Okay, knowing that our old Coleman hadn't been used since probably 1974, I didn't even bother taking it out of the box to try firing it up. I have pictures of my dad cooking on it, and it is a fairly large 2 burner with a tool/towel bar hanging over the back and a red tank. I didn't need to look at it. I put it in the camp closet and forgot about it. The friends I camp with now have a large propane tank that we hook up to my propane stove and their lights, easing my dislike for it, and all is well.
Well, our spring camp out got washed away by heavy rain this weekend, and I was trying
not
to deal with the wet gear when we got home, so I pulled out the two white gas stoves (yeah, I still have a prejudice against the propane stove) and started looking at them. The 425F is still what it is, the tank holds pressure but the burners don't light at all. I have found a couple of sites that show how to tear it down and clean it up, so I guess that will be a project this summer (along with finishing the camper that would have kept us out of the rain Saturday!!!!).
However,
the other stove is
NOT
our old family camp stove, notable for the red gas tank! This must have been Grandpa's stove, the one that famously set his comb-over on fire one time when he was duck hunting with his boss!!! It's a
Coleman 413D (still in its battered box) with a cylindrical brass-colored tank!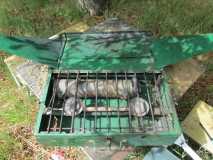 Well,
COOL!

I have more projects than time now, with two stove and a trailer! What fun!
Catherine

p.s. Yes, dear daughter's wet sleeping bag did get hung out to dry, and the tent is on the line now.