I've been obsessing about trailer #2 for awhile. Trailer #1 was fun to build, and we've had it out dozens of times. But mistakes were made... So I've been thinking about starting over.
All the pics I've got of Trailer #1 are in my profile.
So, requirements are...
Musthaves:
1. Offroad ability -- gotta be dragged over 18" or so rocks.
2. Sleeps 4.
3. Quick setup
4. 15 gal water tanks
5. Standing room
6. TTB < 60 seconds. (Total Time To Beer. The time from getting to the site to when I've got a beer in my hand)
7. Nothing goes in the jeep. It's all in the trailer (this affects TTB, as it means I need to be able to get to a cooler fast)
Pretty much what I designed trailer #1 for. But I hate the tent. Setup is really long, All cargo is inside, so I have to throw everything out, then reload. Takes too long to get to a cooler. The tent (being non-insulated) has some nasty condensation problems.
I'd like:
1. Real heat
2. Outside galley
3. Queen bed for Wife and I.
So what worked well I want to keep? The pnumatic lifts are dabomb. Top goes up/down without any effort. It's nice to have air available at the campsite for air matteresses, bike tires, etc.. (And jeep tires in the desert) Big PVC water tanks worked well (Pumped by air pressure). The 6x5 form factor with the same track width as the jeep worked well too.
So, after much thinking, I've arrived at a pop-up-slide-out leaksalot. Had to extend to 8' which is really about as long as I can go and have any hope of decent offroad capability.
Sides permanately attached. plastic hinges all around. No real bad leak points except around the lifts. Top raises/loweres with pnumatic lifts and the bed slide will be powered with another pnumatic ram.
My attempt at some sketchup, fully opened view: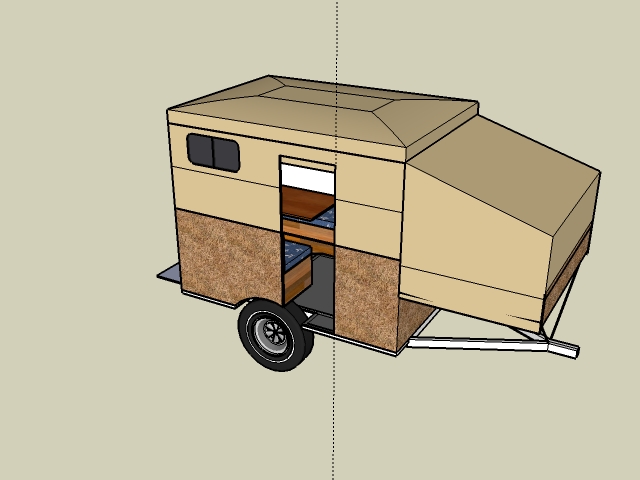 All closed up: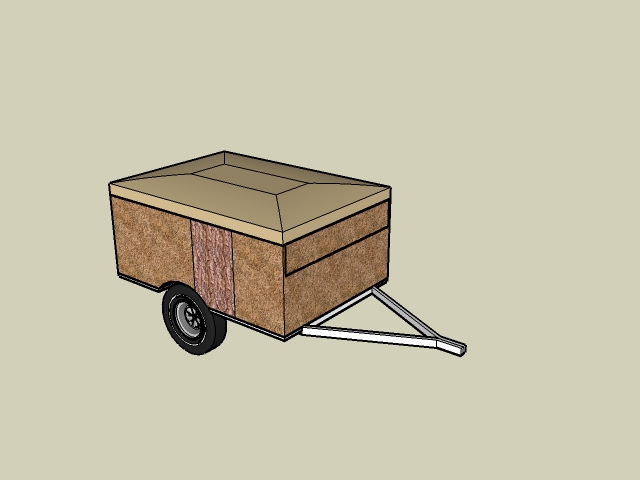 How it all folds: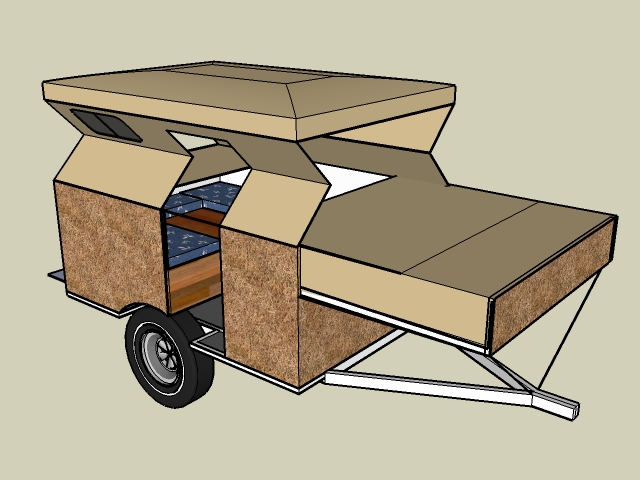 What's inside: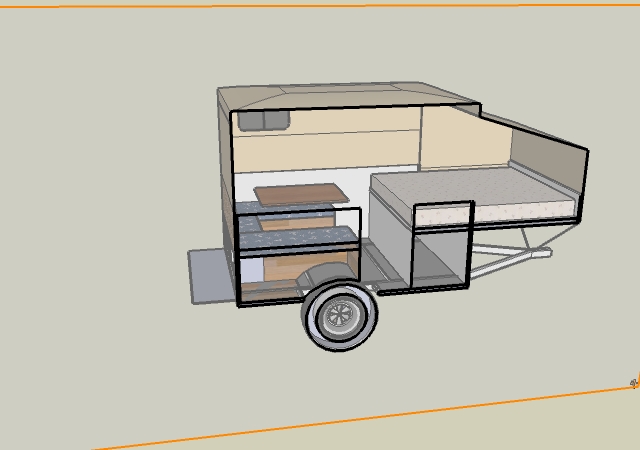 (More angles in my album)
I'll have a tounge box on there that will help support the slide out bed. The bed is a queen, the dinette is 48". Overall width is 5'8" with a 5'6" interior. 8' long box. Box is 3' tall, roof is 6-8" or so Clearance is 22-24 inches or so - it'll be up there. All panels insulated. The galley is in the rear (makes a kind of counter when open) and the coolers (I bring 2) slide under the setee benches. Middle area for stove and whatnot. Large storage area under the big bed is for camp chairs, ez-up, etc. Water tanks beneath it (Water weight offsets cooler weight)
I can get the mechanicals to work ok, It rarely rains here so I'm not too concerned with seals. The problem: It's a box. Not too attractive. I could add some rounded areas, but then I start to lose room. Any ideas out there?