For those who aren't into reading, please just move on, this is a build journal, but an effective one starts with describing perceived needs, designs that address them, rethinking based on the results of experiments, and only then actual building will take place. Now, that's not to say that I won't be building for months, or even years, as some have here, sometimes due to analysis paralysis. I've already got my Harbor Freight (HF) trailer kit under construction and my initial foam, interior/exterior laminates, adhesives, and fasteners in hand.
I'm also spelling things out with their acronyms for the newbies, so please excuse the pedantry if you're a Teardrop Master, mod(erator), or whatever other levels are above Teardrop Inspector. Many builders just jump in with inscrutable terminology in their journals, often confusing the non-annointed who think a TV is something on which you watch the DIY Channel, Tiny House Nation, etc. (for the newbs, it's a Tow Vehicle

).
I'm cursed/blessed by being both an engineer and an educator, so I try to be precise without too much hand-waving, but precision generally also means providing details. Unlike a typical TV episode, where there are only 21 minutes of content and nine minutes of commercials per half-hour episode, it's all content here, and it may be a while between posts, depending on real life (family, the real jobs, discretionary money, discovery of better methods/materials, etc.). Bear with me though, as I do try to use humor, although I usually bomb more than the majority of the time that even professional comedians do. As a wise old Navy Admiral once admonished me after a very difficult, dry, highly-technical briefing, "Damn it, son, if you can't be informative, at least be entertaining!"




I've been planning this build for many years in bits and pieces, and I'm finally at the point where need is overcoming all of the other barriers, including available time, physical stamina, and especially money (I'm limited to the salary of a pre-tenure teacher in a tiny K-12 school of 35 students in one of the most rural areas in the country). I originally just wanted to build a simpler variation of the Safari Condo Alto: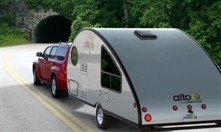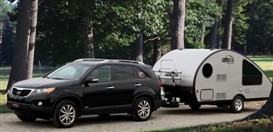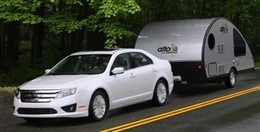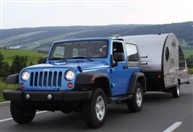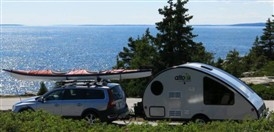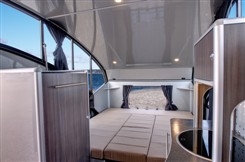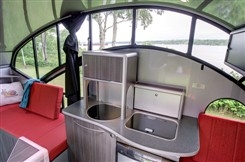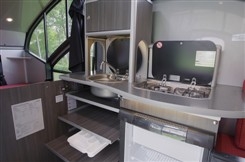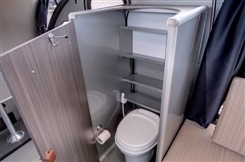 I've built half-a-dozen wood-framed/paneled flatbed and box utility trailers on Harbor Freight 1,720-pound and 1,195-pound kit frames, and I've used fiberglass over foam to build experimental aircraft. Being 6'3", I was drawn to the Alto design because of the ample headroom through most of the trailer when the roof is raised, as well as the ample light that can enter through the windows along the roof line. Room for plenty of amenities added over time for longer-term living is also a nice option, and I've been interested in clever space efficiencies being developed for tiny homes (THs). The more I thought about both TDTs and THs, the more I began to think about how it might be possible to combine the techniques used to construct them.
Expanded styrene (XPS) foam panels such as Owens Corning Foamular or Dow's products were an obvious starting point for their light weight and compressive strength when used as the core of a composite sandwich. Two-inch thick 4 x 8 foot Dow panels cost about 25% less than Foamular in my area and are plentiful, and Polywall is about three-quarters of the cost of fiberglass reinforced panels (FRP). I'm experimenting with Polywall non-fiberglass reinforced plastic (NRP) sheets cut and adhered to the foam with Glidden Gripper primer or an adhesive that doesn't dissolve the foam or require evaporation since foam and Polywall are both essentially impervious to vapor escape.
I was going to use 5 mm thick birch plywood for the inside skins of the panels, but they were out of stock. I had originally wanted to use Polywall on interior and exterior panel surfaces to eliminate any chance of rot, but they cost about 25% more than the plywood. So, I'm going to wind up with a very-easy-to-keep-clean and bright interior that will be completely worry-free when it comes to water, whether due to precipitation or spills inside - there's nothing like being able to hose out your RV after a rainy, mucky trip, right? I can always apply other materials to the interior surfaces selectively as utility and aesthetics indicate. I'll initially just be using plastic organizer containers for supplies stowed in the Corto, and at some point (aka when enough discretionary cash and time are available), I'll probably fabricate foam-core, wood/Formica/etc.-veneer cabinets.
My variation of the Alto I'm calling the Corto, since the former means "tall" and the latter means "short" in Spanish. My initial configuration was going to be a 4 x 4 x 8 foot (H x W x L) teardrop with a maximum height of six feet inside with the roof raised. However, I'm now thinking about making as many of the sandwich panels 4 x 8 feet as possible and using adjustable-pressure latches on the interiors and exteriors to lock the panels together.
The simplest initial configuration that would require no foam cuts could be made up of eight 4 x 8 foot panels arranged with one as the floor, one as the roof, two on each side, and one on each end, with the aft panel able to pivot from the left side corner (keeps everyone from walking into the street without really trying). Flexible vinyl foam-core seals, such as those used along the bottoms of garage doors (Thrifty!), could be used to deflect precipitation away from joints, and if the compression latches aren't able to keep water from penetrating the joints, the joints could also have thin foam seals in them.
It took me a long time to figure out what terms to use to find on the Web what used to be professionally called "slip hinges", but I finally discovered the right magic phrases include "detachable hinges" and "lift-off hinges". I knew they existed, because they've been used on boats forever, as having an opened door swinging around in heavy seas is not a good idea at all (especially when they're made of solid oak, maple, etc.). Here's what one looks like, in case you're not a nautical cabinet-maker:
These are very useful for construction of prototype as well as production/self-built trailers, especially when the alternative is trying to read a good book in a trailer being towed at high speed over boulders with unsecured cabinet doors swinging all about (what should be an unnecessary caveat, but we apparently live among a majority of In-DUH-viduals: NEVER RIDE IN A TRAILER BEING TOWED, AT ANY SPEED!)! I plan to use them to slip panels together along their edges, two per long dimension and one along each short dimension. It's amazing how much strength is suddenly achieved when even three otherwise-floppy panels (e.g., < 1/8th-inch luan plywood) are fixed together just at the centers of their edges to form a corner.
When six faces are formed into a rectangular solid from panels using the same method, the strength of the resulting structure is incomprehensible, even when calculations are performed correctly to predict the outcome. Here's what a whimsical cube constructed of twelve 4 x 8 foot foam panels, secured by 24 slip hinges on the centers of each four-foot section of each edge:
The more mechanically inclined might notice that there aren't any hinges in the two back corners and that's because you can't slide panels along more than one axis, as once you've engaged one pair of hinges along an edge, you can no longer slide that panel into another set of hinges along a perpendicular edge. That means that at least two pressure latches will need to be installed between the side and back panels in each of the back corners. Another option would be to use removable-pin hinges, but having used those before, that can be tricky as, even if you drill and tie them off to the hinges with fishing line, the pins always wind up lost in the mud or the bowels of the tow vehicle (TV) in torrential rain and wind late on those Friday nights when we seem to wind up camping



It should also be noted that the vertical corners are point-edge-to-point-edge, which, although seals can be situated where they meet, will succumb to Murphy's Law, and water will make its way inside. The same is likely true in the roof joints, although I would put thin, compressible seals in them prior to assembly. Even though it would probably only be a few drops, that's enough to demoralize all but the stoutest-of-heart, eventually (e.g., visitors one might be trying to impress!

). Me, mmm, water's something to be cherished, especially given the extensive droughts Out Here and the following fires. Maybe not in a sleeping bag, but that will lie on top of several layers of impervious closed-cell foam mats and mattresses, while leaks would most likely run down the joints and drops collect toward the corners - nothing some of those quick-dry towels couldn't handle and be wrung/snapped essentially dry.
Don't worry about the HF trailer frame I'm showing in my drawings, as any structures wider than six feet, more than four feet high, not aerodynamically faired, and reinforced with many more additional fasteners won't be towed with the panels erected. Also, support legs would be deployed at the outer corners of the frame attached between the shell and the trailer frame to ensure solid stability when moving around and materials stowed inside (the edges of the frame can be seen protruding a couple of inches along the bottoms of each side panel).
This is strictly a static, non-towable experiment for the foreseeable future, and another reason for the simple box experiments is to gather experience with building larger structures and the much more numerous interior features at a TH scale. Eventually, some panels will be cut/kerfed to establish a curved teardrop profile to allow towing with the panels assembled using more mechanically-substantial fittings, or at least a larger number of fasteners spaced more closely than the two feet in this very rough prototype. Here's how the panel layout for the concept could be applied to a teardrop-faired version with more-than-adequate inter-panel connections and structural reinforcement:
While this is based on a simple 8 x 8 x 16 foot box made from 4 x 8 foot panels, I've drawn in a teardrop outline (generated in about a minute using the SketchUp arc tool) across the side panels to show where the cuts could be made in four panels on each side. However, I would more likely cut the upper or lower two panels on each side down to 2 x 8 feet wide to result in a six-foot-high shell, and the outline would be scaled vertically appropriately. In the structures being towed, I would incorporate some form of reinforcement extending (all the way?) through the width of foam sandwich panels that would take the structural load off the foam and provide sufficient compression on seals along joints to prevent any water intrusion. Occasional drips in a vehicle intentionally taken out into the wild where you're kayaking, hiking, cross-country skiing, fishing, sailing, and doing a bunch of other messy stuff is one thing. Getting splish-sploshed on with a laptop where it was designed to be, on your lap, perhaps while lying in bed, and plugged into AC power, is something completely different - potentially shocking!




So, there it is, the first installment of my version of Homer's "Odyssey" ... or Homer's "Idiocy", as in the yellow Simpsons character, depending on whether you're a literary or TV critic ... or a Teardrop Master!

More to Come, So Stay Tuned ... unfortunately for The Unsuspecting Public!