Hi all,
So, after months of lurking and absorbing as many fantastic build ideas I can from this priceless forum, I've decided to take the plunge and start a Build.
My wife and I are planning on taking a month-long journey to camp Out West (hence the subject line for this thread. yee-ha), and visit National Parks (sooooo many to choose from). The Foamie will be our home away from home for the duration of the trip.
As far as the build is concerned, the only guidelines I have so far is that it will be a Foamie (walls will be 1.5" thick, covered in glue/canvas/paint). It will be built on a Northern Tool 5x8, queen-ish size bed with kitchen in rear. The rest of the plan will grow from there, with inspiration from several of the great builds documented on this forum.
I ordered the trailer online last week, and picked it up Saturday. Laid out the frame .... 275 lbs of possibilities!
After quickly bolting together the base frame, I threw down some masonite sheets from a recent garage remodel just to get perspective. Cooler and stove happily obliged as full-sized stand-ins: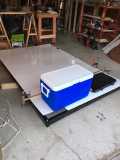 I felt the 12" stock tires (left in photo) that came with the trailer kit weren't beefy enough, so I ordered 13" Range D tires. My wife peered at them and pronounced, "I feel safer already."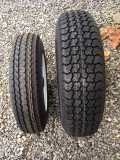 And so it begins!