Hi everyone,
Well, I have money invested so I must actually be building, right?
Bought the 5x8 Northern Tools no-floor trailer in Fargo May 15 and brought it to Perham Steel and Welding. There they reinforced the tongue and bed with diagonal 2x2 square tubing. The welder, Kenny, cut through the second angled steel crossbrace and also moved the channels that hold the trailer lights wiring to weld in the reinforcing. You can see pics in my album.
I also asked if they could find a way to mount the plate for the rear stabilizers a little lower so, when I laid the bottom 3/4" plywood base, I wouldn't have to drill out too much so that the plywood would lay flat in the trailer frame.
The guys came up with what I thought was a great solution. I've never seen it here on the forum so here it is. Kenny welded corner plates, then drilled holes to fit the bolt heads with threaded part pointing down, then welded the bolts to the plate, cut off the bolts so that the stabilizers can be mounted below. Here's a pic to make sense of all those words.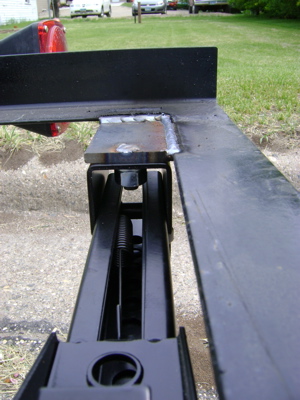 When I'm all done, I hope the teardrop looks something like this...
Gotta go to work now. TTYL