Hello Everyone! (I've had to repost this, it was lost in the switch-over, unfortunately some may be missing)
Here is the beginning of the build thread for the "CrowsWing" teardrop. It will be an offroad teardrop built on a Benroy profile. It will be 5 foot wide, 10 foot long and 5 foot wide (not counting fenders). It includes the following features:
Basement storage accessible from outside hatches
36 Gallon water tank
Aluminum chassis with built on running boards and fenders
Deluxe kitchen with nor cold refrigerator and stove/oven combo
Hidden wine rack with capacity for 12 bottles
It will be aluminum clad , silver on top, black on the sides , diamond plate guards on base
Lots of other stuff .
We want this trailer to be able to do moderately rough trails ( no rock crawling) and be comfortable for extended dry camping. My Hubby and I are what some people call "glampers" We like our camping equipment to be not only fully functional but well-built, something that can be used for years. Dinner is something to look forward to not just a way to fill our guts, and it should be served with a nice bottle of wine. We like being comfortable and our motto is "If you are hungry, cold, or wet, then you haven't planned very well."
If we can't find a piece of equipment that we need , we will modify or build from scratch as needed. I find that designing , building and planning to be nearly as much fun as tramping through the woods. When camping, we keep a notebook handy to keep track of things we need to change or ways we might improve. There is always something to change or try differently.
I realize many people are enamored of "roughing it". There is nothing wrong with that, but it is not for me or mine. This build will be a little more expensive and complex then some. I make no apologies . This will be our first trailer build, however both my husband and I have worked together on many projects. I only hope that we will be able to use the extensive knowledge we gleaned from this forum make the teardrop of our dreams. (If it doesn't come out as planned, I suppose there is always the possibility of a second build.)
Here is the latest Google sketch-up pics: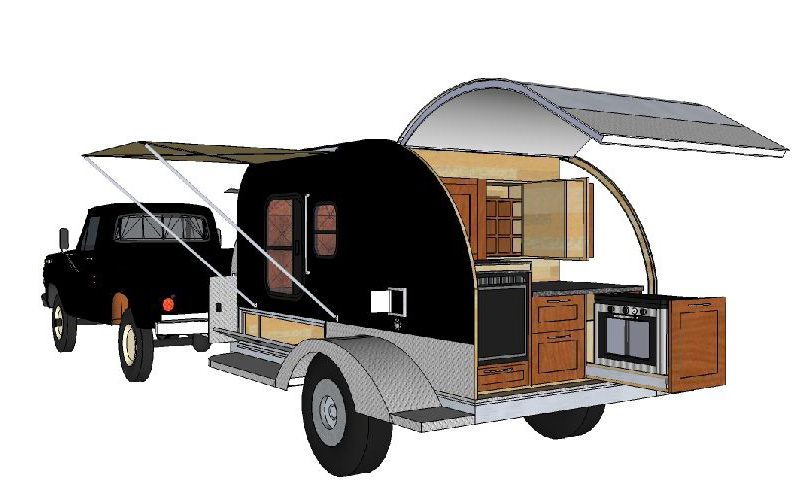 We have already made some progress. The chassis, front box ,and hatches have been ordered from a specialty metal shop. We hope they will be ready soon. We have a room full of bits and pieces ordered online. There is a stack of 1/8 inch 5x5 Baltic plywood in the garage, and we already have started cutting the 5x10 plywood to form the sides.
The first tangible thing we built was the lockers that will contain the 10 lb propane tanks.
The details of their construction are in the propane forum here:
viewtopic.php?f=54&t=47079
We made a template out of ½" plywood. We "stretched the plywood by cutting dados and using splines to glues on pieces to make it 5x10'.
The outline was carefully drawn on it and a jig and router used to cut the curved sections.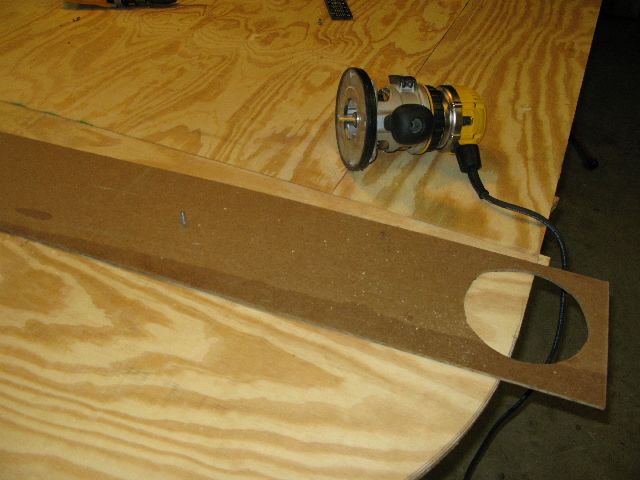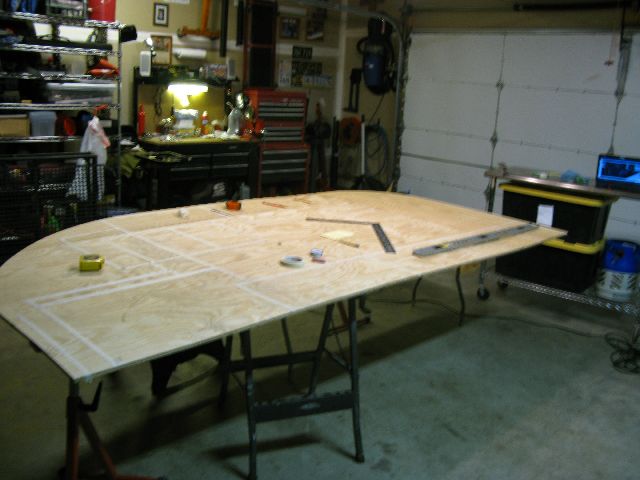 Then the plan was laid out. Then changes were made, then more changes.
Kitty thinks of Teardrop building all day.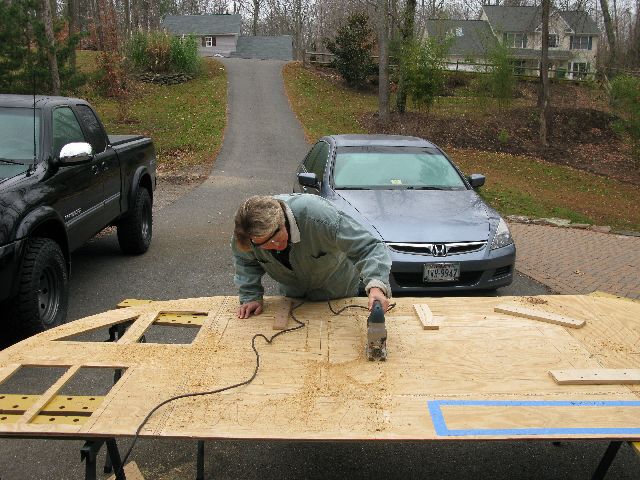 Then the door, window and insulation spaces were excised.
Scary skeleton!
The next step was to use the template to cut out the side panels. The plywood was marked, then the perforations were rough cut with a jig saw and finished with a flush cut bit on the router.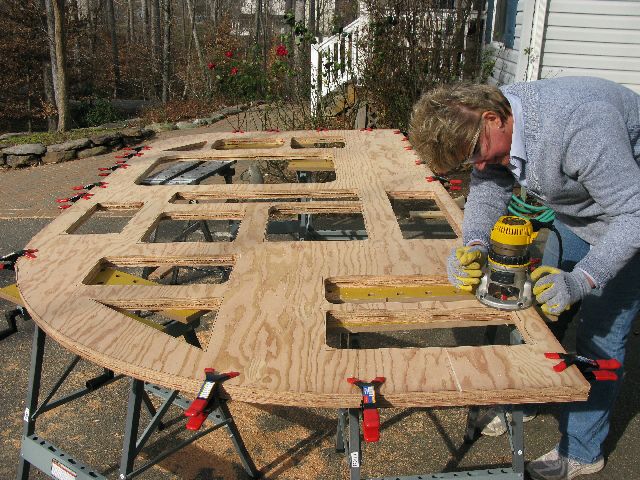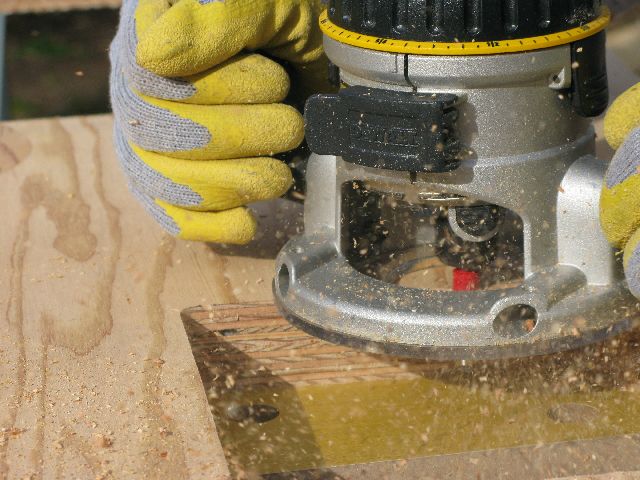 Making sawdust!!
Then a dado was cut along the back hatch edge. It is approximately ½ wide and just over 1/4" deep. There will be weather stripping that sticks out of it.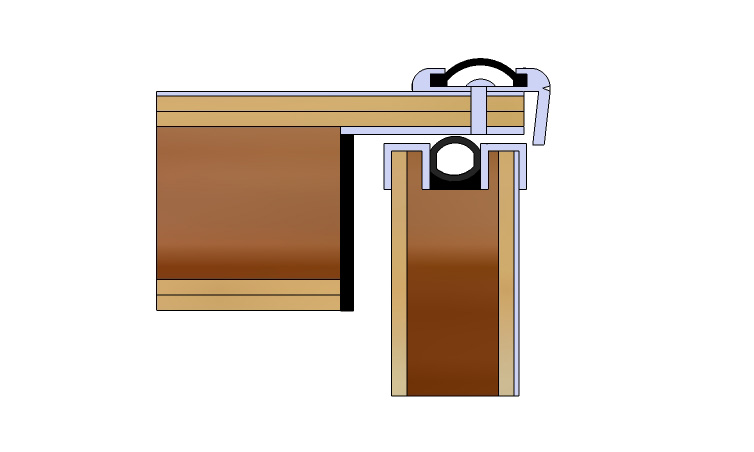 Hatch edge detail. The dado is my husbands idea. He wanted something that would seal like the o-ring on a pelican box. I used a micrometer to measure the true sizes of the plywoods (.118 and .719) and tested the router depth on a few scraps before committing to the real deal. We definitely didn't follow the K.I.S.S. principle here.
This is pretty much everything we have done so far. We will try to keep this thread updated as we build.
I want to thank everyone who has built and have contributed to the build threads we have researched on this forum. Without their help we would be lost.
TaTa For Now,
Dr. C-Dawg