Here are the Pictures of the build up to this point. I started withe the Haul Master 40" X 48" trailer with the 12" wheels. I used metal 2x4s instead of wood. They're much lighter. If the floor is also supported on the fenders that should help improve their weight bearing capability. I still have some more floor joists to install before the floor goes on. I'm taking two 2x4's and riveting them together after first screwing and gluing them to the trailer rails. That will help make them much stronger. I had to separate to two halves with a screw driver in able to get inside to screw them to the frame. then rivet them closed. They feel quite strong now. tomorrow I'll add the 2x4's in between the main rails. Yesterday I met with the person to get an estimate on building/welding the metal boxes that will be bolted under the floor and accessed through doors in the floor to store supplies in. These boxes will be 14"x 14" and 12" deep in the front and a larger 14" x 32" x 12' deep box in back. I'll post picture of them then I get them. The middle of the trailer is 4" in front of the axle. Total height of the trailer should be approx 34"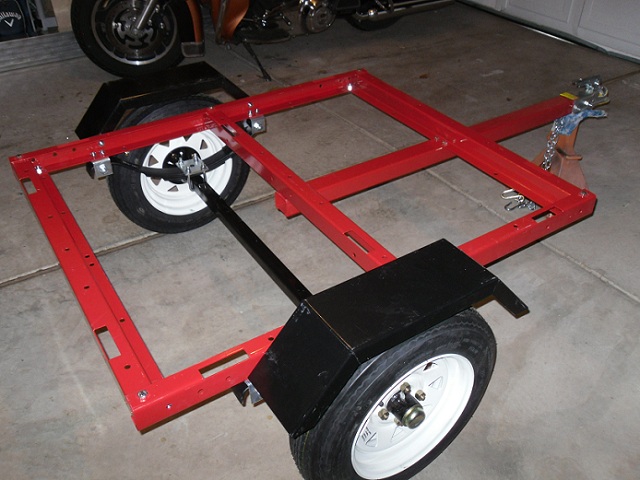 I cut the metal studs with a cutoff blade.
I'm glued the studs and then screwed them to the trailer.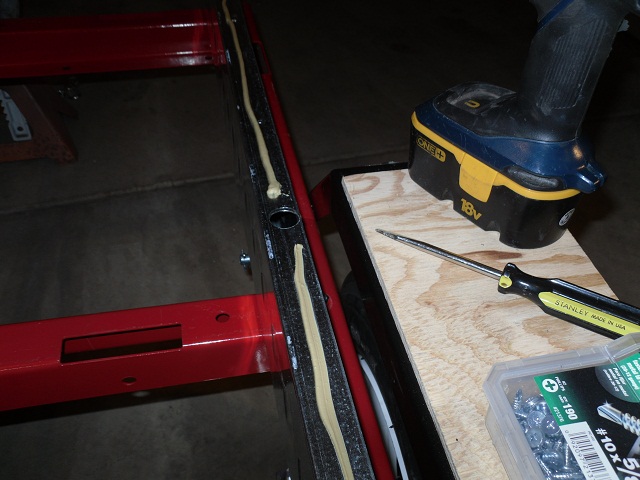 Next, here's a view looking inside the length of the 2x4 box showing the rivets.
I pre-drilled the holes for the screws into the trailer frame. Then held the two 2x4's apart with a screw driver in able to get to the screws inside the box.
A real pain in the backside but stronger.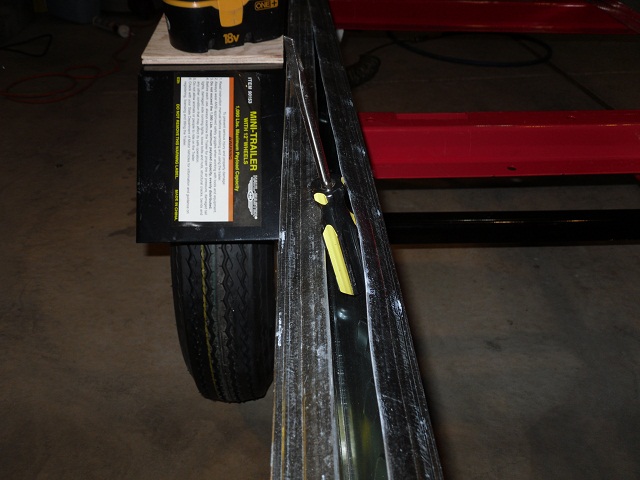 I had to shim the space between the fender and the rails so that the floor will touch the fender. the floor will be bolted to the fender
and to the rails. The fender will help support the weight of the floor.
This just shows riveting the 2x4's together to form a box frame.
Here's the first days work done. the 3 main support rails are in place and the shims are attached to
the fenders. So far, so good.......