Martinjmpr wrote:

I'm thinking that that is just a clear coat that is checking where the wood grain is stressed from bending.

I wonder if you could sand it down, lay 6oz cloth with epoxy, fill the weave with epoxy, thus reinforcing the wood grain, stopping the checking and keeping that woody look. Just a thought, not sure if it is as easy as it sounds.

I'm not understanding.

Do you mean lay the glass fiber on

top

of the wood and then epoxy it? What would that look like? Do you have any pictures of what that might look like on wood?

I'm pretty much open to suggestions, I just have never done any of this so I need to know what my options are, hence the post I linked to above.
This is a cedar-strip canoe that my brother built and I helped fiberglass. I have one of my own, but it's not nearly as photogenic. There is a single layer of 6oz. plainweave cloth inside and out and the outside bottom, bow, and stern has an additional layer of 6oz. cloth for abrasion resistance. As you can see, the fiberglass fabric disappears into the epoxy (even where it is doubled up) and lets the wood shine through. You actually have to look quite closely to see the fiberglass at all.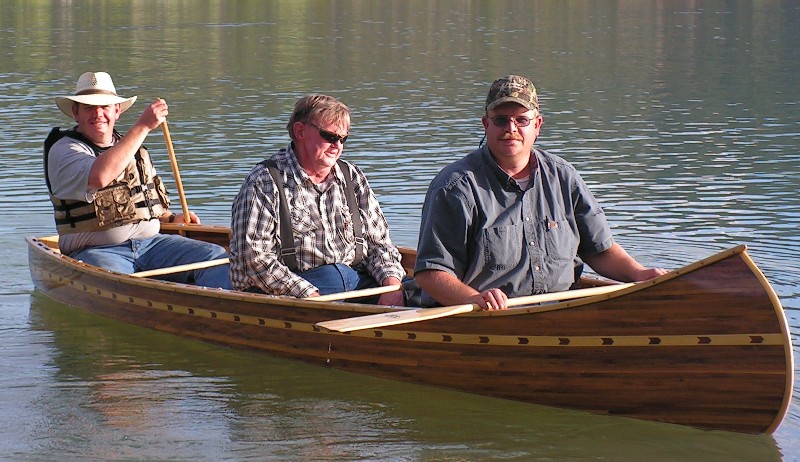 It is a do-it yourself process, but it does take a little know how and effort to pull it off. I would recommend fiberglassing a small project before tackling the roof of your tear. It is also more expensive than other finishes, but as you can see, the result can be worth the effort/expense. The process would involve sanding off the existing finish, cleaning it to dust-free, draping the fabric over the area(s) to be finished, properly mixing the epoxy
(critical to follow the instructions that come with your epoxy, small batches are key to success)
, spreading the epoxy and pushing it through the weave of the fabric
(easy, but once you start you have to finish)
, repeat applications of epoxy to fill the textured weave that comes through the epoxy from the fabric
(follow the directions for your epoxy, some require a complete cure and sanding between coats)
, sanding smooth, then finally finishing with a UV resistant varnish. The varnish will have to be re-applied
(seasonally depending upon exposure to the elements)
to keep it effective at protecting the epoxy from UV light, so it's not a maintenance free finish.
My recommendation would be to use lighter cloth, you're not looking for strength, just a stable finish. If it was mine I would use 4oz. or possibly even 2oz. plainweave fiberglass fabric. This will also take less epoxy. Make sure that you're epoxy is for clear coating ... others may leave a hazy or even semi-opaque finish. I use RAKA epoxy but there are many other good brands out there. The manufacturer of your epoxy/fiberglass can give you an idea of how much you will need if you have a surface area measurement for them.
Best Wishes!