The first post of a build journal.
Once upon a time, we had a caravan, a proper one. Went camping in it once and I hated it: I'm too big, clumsy or both. It was frustrating towing this monster behind you. Most of my life, I've fallen squarely into the anti-caravan camp.
A cousin came up with a caravan to Scotland and stayed at a park with some micro lodges.
http://www.largoleisure.co.uk/holiday-parks/sauchope-links-park/holidays/micro-lodges/
(it is really a good site if you are ever near St Andrews, Scotland) We stayed in the lodges and it was very comfortable and cosy. I did not realise at the time but it was the germ of this idea.
Ade in Britain was on TV
http://www.itvstudios.com/uk/programmes/ade-in-britain
when I arrived home most nights and the odd snipp-it was shown to me. He drove around with a teardrop behind a mini. The idea started to grow.
As ridiculous as it sounds, this project started off as an idea to build a full sized "A" truck RV. The idea was to buy the freight box from a 7½ tonner and turn it into a luxury cabin. Then when it was ready, to buy a chassis truck and fit this "box" to the chassis. It meant I could work on kitting out the living space without an expensive truck deteriorating in the process.
My son, Rory, was keen to have a summer project. Last year, he and his two friends helped kit out a garden lodge and were good workers when they were there. Teenagers tend to spend a lot of time sleeping or watching TV, but they were keen and learned a lot. It is definitely their lodge and they obviously have a huge sense of satisfaction from being involved with the build.
With my current finances, I decided to down scale and started to look at other options. As stated I really don't like full sized caravans. Teardrops look the business, and I love the look of airstream caravans. With aircraft grade aluminium we should get there.....
I've just agreed to buy a donor caravan for the TD for £50.
I'll collect it next week end!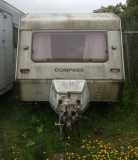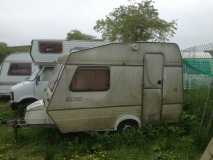 I've already had the comment "It may be worth keeping it and redoing the inside."
naaaaahhhh.... lets make a teardrop!