While wrestling with the build sequence (wiring, foam, skin, etc.) I decided to make some raceways in the upper left and upper right edges of the cabin to get wired from front to back. I thought about going under the floor or inside the walls but that seems that it may be more complicated and harder to make changes or maintain in the long run. I will have some cabinets next to and above the headboard with the PD 4045 in the left one and a stereo in the right one. Some wires can go within the headboard cabinets, but I'll need to get AC power, DC power, speaker wire and lights to the rear area.
I can put triangular brackets along the upper corners of the side walls then cover them with some birch plywood to match the flat walls. Here is a simple mockup.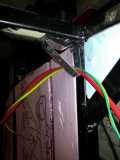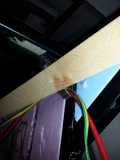 I used just a scrap of 1/4" plywood to show how it would be placed but I'll need to cut a wider strip. Since the roofline curves (it is a teardrop shape!), I'll have to cut a curved flat strip to cover this. I also continue looking for other corner raceway, but would rather not use flat raceway (although that would be simpler). I also cut tracks in the foam insulation for low voltage wiring so that they don't leave bulges behind the interior wall skin. I used the broad side of the HF hot knife - it left a blackish skin in the channel but this will be hidden.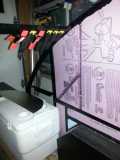 I'll figure out the installation details later since I'm more interested in getting the skin installed.