I got a lot of work done over the last 6 days. Over the weekend I painted the door seals, door edges, galley seals, and moon roof opening satin black using the Van Sickle two part paint. I rolled on two coats using a 4" sponge roller and 1" sponge brush for corners and small areas. I think it turned out pretty good and seems to be durable.
Door seal areas painted
Galley seal areas painted
Moon roof opening.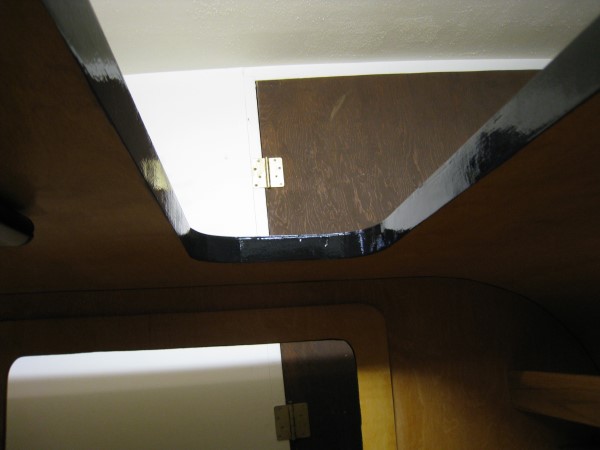 I then spent the next two days painting the body color Yellow. I use 1 1/2 gallons Monstaliner and gave it two costs with the their texture foam roller. It went on pretty good. I have a few spots I will touch up in the spring when it is warmer out. The paint stinks bad and for at least 2 days. It was hard to keep the smell out of the house. I painted in my utility room (basically a one car garage without a garage door) , I closed the door to the house, laid wet towels along the bottom seal, blocked the heating ducts with plastic etc but the smell still permeated throughout the house. We had to open the windows when it was 30 degrees outside to get fresh air.
I thinned the paint a little bit with MEK and got a pretty nice smooth texture. Here is a close up of the texture after first coat.
Here is the galley hatch lid painted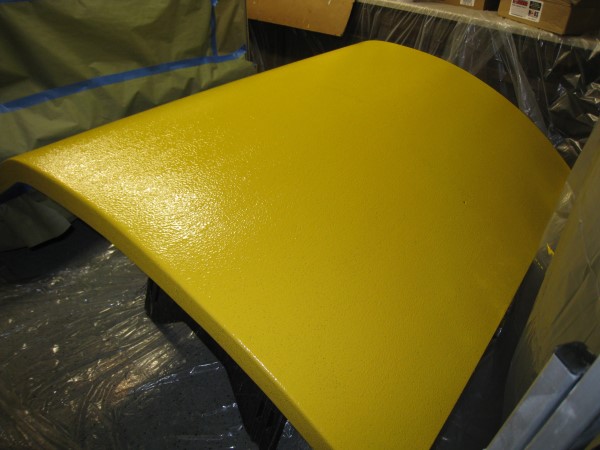 A side view after being painted and masking paper and plastic removed.
Here is a view of the roof painted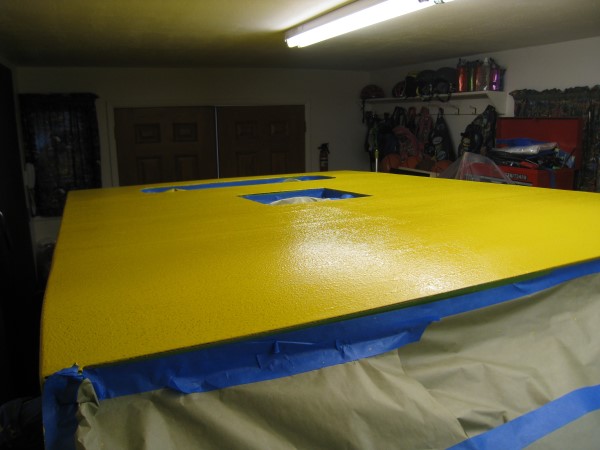 I then started assembly so that the cabin was weather tight and then moved my teardrop out under the car port.
I had bought a roll of 1/16" black Butyl, RV, Camper, Putty Sealant Tape off eEbayt. I used it to install the windows, fan and moon roof.
Here is a picture of the door windows installed
Here is an inside view of the moon roof installed without a trim ring. I just drilled holes through the aluminum on the outside and screwed it down to the roof through a layer of the Butyl tape.
Here is a view from the top of the moon roof and Max air fan installed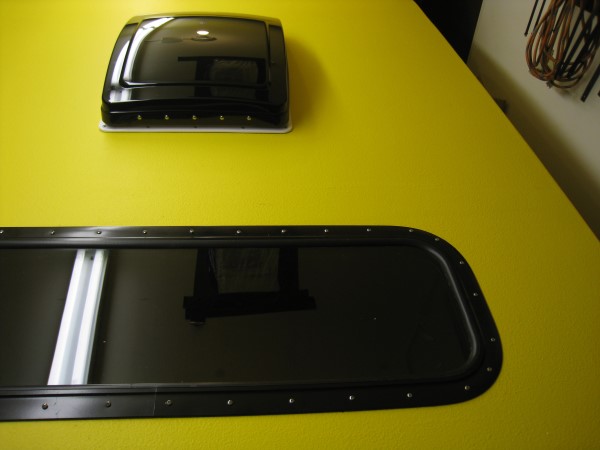 I installed the galley hatch lid and lights.
I then installed the doors and buttoned up the inside. I think all I need inside is curtains and a mattress. We took measurements so my wife can make the curtains over the next few months and I will get a mattress in the spring
Ceiling view of light, moon roof and fan
Door view with door installed
Feet view of storage shelf for gear
Headboard view with storage, shelves and reading lights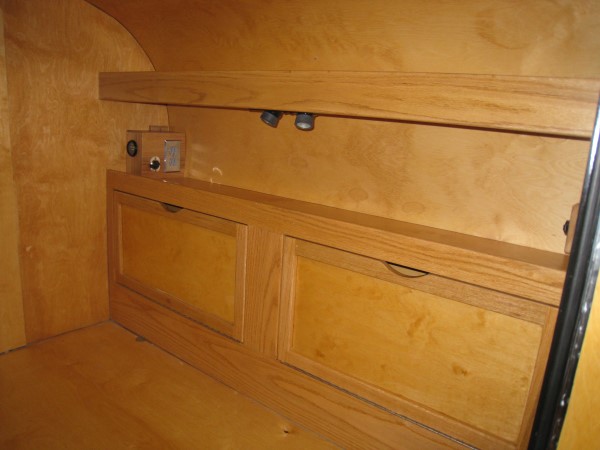 I also worked on the galley hatch and gas struts. I had bought 150 lbs struts but they were way to heavy and the hatch wouldn't close. I then tried 50lb struts and it works almost but won't stay up. I order 75 and 100 lbs and will return whatever doesn't work.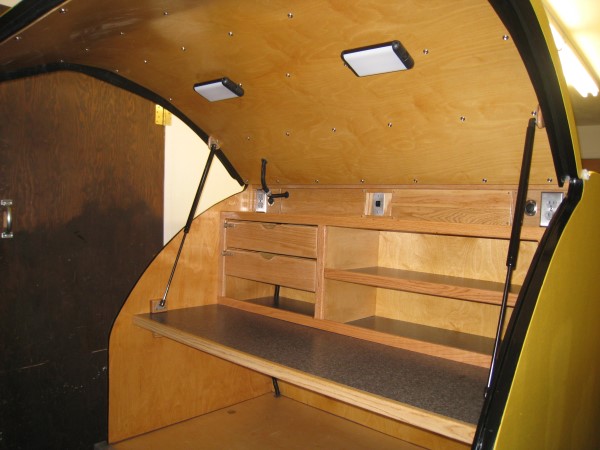 I installed my hatch lid inside panel and wired up the lights. I wanted the panel removable so I could get to the wiring. So I used 1/8" Baltic birch and installed with stainless steel decorated screws washers.
Here is my paper towel holder. All it needs is nice looking weight to keep them from blowing away.
Here is the galley with baskets and coolers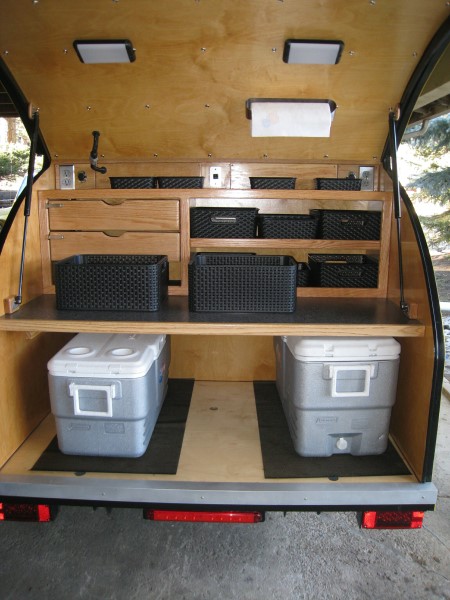 I move the teardrop outside and installed my axles, wheels and tires, fenders, and tongue box. Lots of detailed left to finish but I can now leave it outside under the car port and work on it as the weather allows and be ready for spring camping.
Rear side view
Front side view
Side view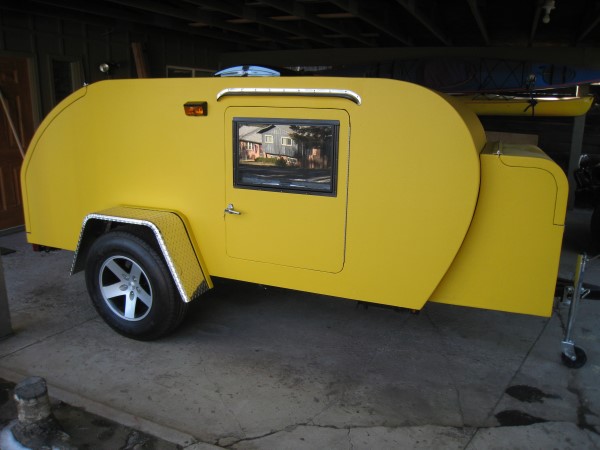 I still have to attach the side table brackets, battery box and get a battery. I also need to decide if I want any diamond plate trim on the front and along the sides. I had planned a 4" strip along the bottom and back and 4' full width piece on the front, but now with the tongue box I am not sure. The bed liner paint is suppose to be durable so I may decide to leave the diamond plate off. I can always add later. I also need to install some graphics but will wait until spring when it warms up. Now all I need to do is figure out what trips to take it on, and where I want to take my Jeep 4 wheeling.
Happy Building
Dan