Since it is still too cold to start building here and I can't hold back any longer I started an indoor project. I've talked about this over in the Foamies section so sorry for those of you for whom the concept is a bit of a repeat.
I am building a wee tiny teardrop on a reclaimed Burley kid transporter frame for my bike. I rebuilt the Burley into a cargo platform a few years back.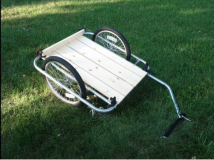 Last year it saw some service hauling my dog in a wire kennel
, and a plastic one, and a bigger wire one. Also while the flatbed is super versitle for carrying cargo it stinks for groceries and other small items. I had been using a plastic dog kennel for that. It's sort of a pain to load and unload.
So as an early spring (we're still expecting snow here


) indoor get familiar with the techniques project I am going to build a canvas covered foam teardrop with an open top. I've been noodling on sizes..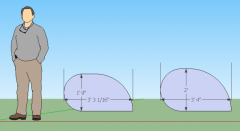 I finally decided on a total of 20" tall with the roof. It's going to be partly roofless.

And the top will be covered with either some sunbrella mesh, if I have the dog inside, or a waterproof cordura top if it's cargo that doesn't need to breathe. The method of securing it is yet up in the air. Conveniently the dog isn't much interested in escape, so it doesn't actually have to do anything more than notationally secure him.
I started cutting foam and wood this afternoon. More pictures, and some drawings from sketchup later tonight. I am hoping to do some experimentation with hot wire cutting, and kerfing foam, as well as assembly techniques so that when I start on my big trailer I won't have so much to learn.