No call back yet from McM, still waiting to hear their answer about the ball sockets.
Here's some work from today. Cut out the galley hatch ribs, did one as a pattern which was sanded, smooth and curved properly. Used the pattern, some dry wall screws & the router with a flush-cut bit. Did the rough cut first with a saber saw, then fastened and cut exact with the router. Here they are stacked & clamped in place on the side panels. Both side frames are now whittled out and properly skeletonized (in time for Halloween). There's a big pile of scrap from all of this cutting which will go in the trash. I'll save a few pieces in case I need backing blocks for lights, hardware, etc, but most of the weight is gone now!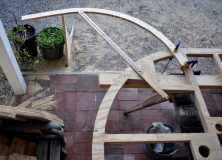 Located & cut the electrical inlet for shore power & the battery vent. Thinking I will have the battery vent on the passenger side & the shore power inlet on the driver's side. The shore power inlet needs a drain in the side somehow, to function properly, hmmmm.

It's on the lower portion drilled from the inside, so I need to think about a drain now.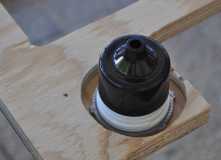 Glued in the chunk I needed, to locate a block for the upper side panel pivot point for the hatch (mistake on the first panel, fixed for the second one). This was removed because I hadn't done a layout for the gas strut when I did the first side. The side frame attachment point is close to the top near the inside of the hatch, but outside of the upper cabinet. The hatch pivot attachment will be located down near the counter, about an inch above the counter and about an inch in from the inside skin, more or less. I'm planning on having about 6'3" of headroom at the back edge of the hatch when it's open. More than enough for me or my wife, so no worries there.