Took the day off work yesterday & started doing a mock-up of the galley. Here's the beginning of the location for some basic stuff. The inverter will be located next to the battery box, on the bulkhead behind the cooler. Stove/oven combo goes to the left of the cooler.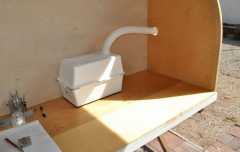 Cooler & battery box shown, wiring goes up behind the cooler and into the electrical chase from the corner hole in the deck. Chase is on the front-bed side of the bulkhead, below the cabinets. Still need to buy an inverter, no heavy current draws, but 1500 watt inverter is planned, just in case I need it. Open to suggestions on brand, type, features, etc. if anyone has one in mind from experience. I've never used one & would appreciate your input. Figure I can make coffee or run a drill if necessary.
Finally, here's the breather penetration on the passenger side for the battery box. The horizontal frame web is the galley counter support. The extra hole above & to the right of the breather is actually for the opposite (driver's) side shore power inlet. I routed them into both sides to be safe until I decided. The two "X" marks on the left of the web are the location of the dowel joint where the plywood was originally fastened & glued together, prior to cutting. It was plenty strong enough until the 1/8" interior skin was glued in place. I'm still amazed at how many things have to fit together, for all of this to work and function properly. Feels good to be working again and making slow progress!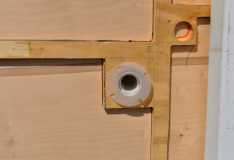 Vents for galley electrical & chase. As usual, the router & flush-cut bit comes in handy for repetitive cuts, where more than one thing needs to be done & replicated. The galley bulkhead showing the cut-out for the power supply, shelves, cd location & panels which will be in place later.