OK, making progress on the A/C installation. Here's what we have so far. A view from outside looking at the panel. Rivets from the front side which go into the backing pieces.
Here's a partial insert shot. Still some more stuff to go inside the box to locate the A/C unit in it.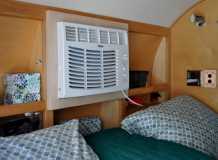 Set the unit in place & turned it on. Temp went from 86 inside this morning, down to 64 in about 20 minutes, so it's getting plenty of air flow on the back end. More to follow tomorrow.