Haven't updated in a while but I've been plugging away. I got the skins glued onto the side panels and spent a good chunk of Saturday glassing them. I was able to do it at work where they could sit undisturbed in a warm shop for a couple days. I checked 'em out when I went in this morning and they came out pretty well. I wasn't sure what I would find because I under-catalyzed one pot of resin. I discovered it when I finished up and still had some catalyst left over.
After checking my mix sheet, I found the mistake...but not which panel I had used it on. Just to be safe, I mixed up a hot batch and gave everything another coat of resin to pump some extra heat into the layup. It seems to have done the trick, though it probably would have been fine without it as well.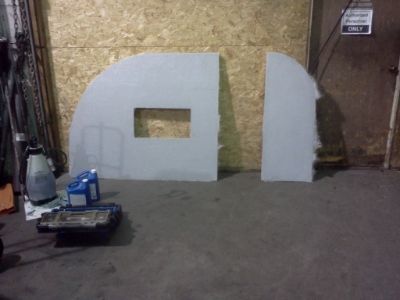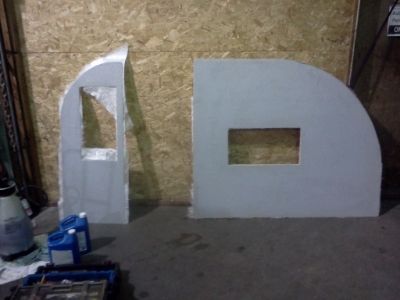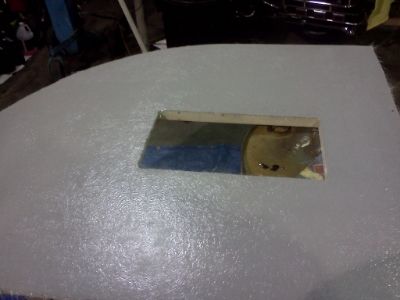 Once the excess mat is cleaned up, the panels are ready to glue to the floor and then I can lay in the spars and get going on the roof. Then I'll tow the whole trailer back to the shop and glass the roof and seams. I still haven't decided how I'm going to finish the outside, but using the pigmented resin is a 'campable' finish until I do decide - I will probably either fair it and paint it or have a buddy shoot it with gelcoat while he's doing a boat. Lots of time to decide on that later.
Before any of that though, I need to tape the seams on the bottom of the floor and undercoat the floor with black goo before I bolt it to the frame. It's too cold right now for the PL Premium I plan to glue the walls on with (have to do that outside), but it's supposed to warm up this week so I want to have everything ready to do that this weekend if I have the time.
I also started on the tongue box/battery box this weekend. The curved lid will open like a galley hatch and its radius is that same as the front radius on the roof (18") so it will serve as a test jig to make sure that the roof ply will make the bend. No pics of that yet since I've only got the floor cut out and the back wall of it framed out. Soon though...
No progress tonight after a hard day and it's a trip to the dentist tomorrow to fix a busted chomper (thanks to a rogue peppercorn) so I may lose some working time then too depending on how that goes: hopefully it's just the bill that's painful
I've got a month-long Xmas break starting in a couple weeks and I'd like to have most of the build and a shakedown trip done by the time I go back to work...tick,tock...