Got my frame work all finished and the base of the floor panel finished, so today it got flipped bottom-side down and bolted to the frame. Did the first trim on the excess canvass on the bottom and put on the first coat of poly/mineral spirits sealer.
This angle (shot with a fisheye, so ignore the curves please) shows the new tongue extension tube. This makes me feel better as the only thing I did not like on the HF frame was the tongue setup. This is bolted and welded.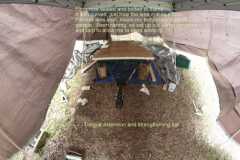 I'll put on 2 more coats of top side sealer this week, going from 75:25 mineral spirits : spar polyurethane to 50:50 to 25:75. The glued and coated canvas bottom came out great (I forgot to take photos). I used Kool Seal to cover the bottom and edges since I already had a couple of gallons from my other campers. I wish it were not white, but that will change as the trailer gets used. All edges will get wrapped with aluminum flashing.
Next up, the walls get designed, cut and put up.
I am having so much fun.
dave