SO I started this out with inspiration from the foamie group, but after inheriting a job demolishing a 5th wheel, decided that I needed a full(ish) frame to re-use the fileon skin I planned to harvest. I picked a bad time of the year to start this Since when I started I was wearing shorts, and some 4 weeks later the weather has turned to single digits - centigrade, including a few sub-zero nights! Given the fibreglass work needed, it's been a struggle, but I'm making progress.
It will take me some time to build this thread, but I'll do the best I can. Thankfully I've shot a lot of pics along the way. The ultimate goal is to recycle as much of the salvaged material as possible
Here is the donor camper I agreed to strip: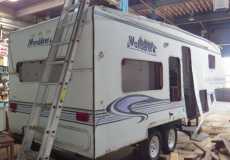 Here's why: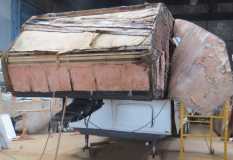 Here's what the owner got back:
Salvaged:
All exterior mouldings & vinyl inserts, windows, door frame & screen door, EDPM roof membrane, interior and exterior lighting fixtures, interior cabinets, propane furnace, filon skin, window valences,roof trusses, and misc hardware.
More to follow...