Here we go.
So we've got this 7x12 CT coming our way, signed off on drawings this am. But first the backstory.
The Argosy. If you google 1978 Argosy Travel Trailer, you'll find something like this: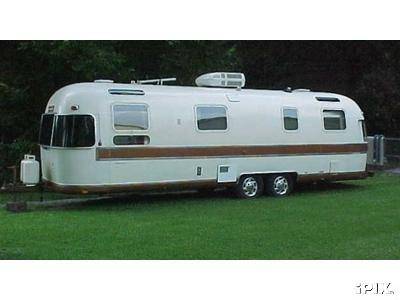 Well, I picked up one of these beauties with dreams of greatness (ever had those) for a steal of a deal back about 3 or 4 years ago. Dreams of gettin her all fixed up, real nice like. I wasn't naive to the money it would take, but didn't really feel through the realitites of life vs. trailer vs. storage vs. where can i work on this thing?
So it sat in storage. Fast forward. I sold it 3 days ago. Would have been great, but I'm hopeful it will be someone else's great now.
I live in a neighborhood. One that wouldn't have been super duper excited about the 30' Argosy in the driveway for 2-4 years (we won't discuss wife here). Anyways, as I've gone back and forth on this dream for the past few years, I stumbled across teardrops, awesome. Expedition Trailers, awesomer. And finally to CT conversions, (and to fit my needs, I hope, awesomest). See I'm 6'4", have a 5'2" wifey, 2 little squirt kids and a dog Rosie, who we ridiculously love. She just ate some of my breakfast, don't judge. I am good with wood, electrical, plumbing, have done lots and lots of remodeling and am not afraid to get myself into it deep. But the CT conversion idea. Wow. It really hit me. Keep it in the driveway to work on, looks good on the outside, it's close so I can work on it, doesn't require me to weld anything or have the unknowns of a nearly 40 year old travel trailer, can work on it in stages, doesn't break the bank...... on and on.
So, I'm pretty pumped.
Here's where I'm aiming:
- We want a basecamp, not a home replacement
- We have an annoying yet real eye for a clean, modern aesthetic
- We need to sleep me and my wife (full) and 2 boys (bunks)
- We want a toilet in this thing.
- We/She acquiesced to a outdoor shower.
- We'll plan on cooking/eating outside primarily with the option of being able to do it inside in a pinch.
I've got some preliminary sketchups... Beds Up and Beds Down View...
https://drive.google.com/open?id=0B8tGn6Zm4nerLVZMeWV6TVR3V3dYMnNwbUdDdGJmYURWZXpF
https://drive.google.com/open?id=0B8tGn6Zm4nerdUVnTEx3T3NISDg1T2hiTzRGZ3d0SVlOWGRZ
(guess i'll have to figure out how to get those inline, anyways)
I'll be looking for all the great wisdom floating around out there and will keep the fun coming.
Thanks in advance for being a wicked awesome, dreaming community, hope to contribute myself...