I haven't really finished #1 (do you ever really finish) and I got the bug to build #2. I am either going to sell #2 or rent it out to local folks. Anyway...
#1 on a recent trip to Twelve Mile Beach at Pictured Rocks National Seashore
Under way on #2...
started with the Northern tool Ironton 5x8 (1980# capy) and will make a few modifications. I moved the axle to 40% from the rear of the frame. That only required drilling 6 holes for the spring brackets. Two of the existing holes were used which put the axle within an eighth inch of 40%. Then it will have the axle slung over the springs to keep the height of the bed lower. Then I have upgraded the wheels to 13" (ST175 80D13 LRC from Pepboys). I could have gotten the wheels about $30 cheaper, but, I wanted a "good" Kenda tire.
Assembly went very smooth. All bolt holes lined up and it was easy to square everything along the way. The biggest challenge was doing the measurement from the wheels to the coupler. Where to measure to/from. Oh well, I did several measurements from various points and came within 1/8" each time. I choose to locktite (242) every bolt even though they all had locknuts. The locktite will reduce corrosion acting as an anti-seize compound.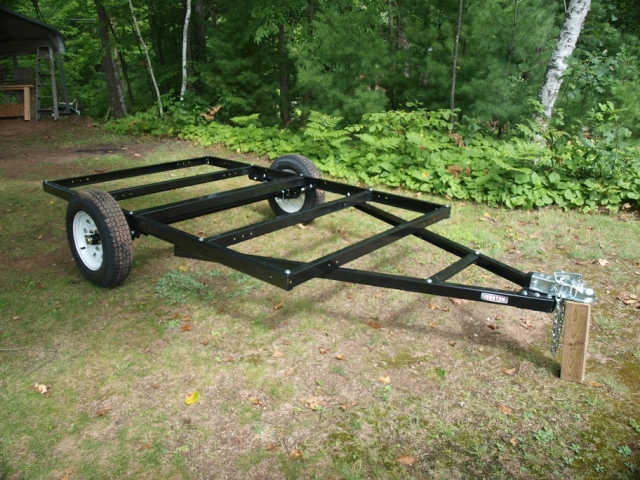 To accomplish the axle over spring I reversed the spring bolt. It was a simple task... clamp the spring in a bench vise, clamp the spring leaves as well, loosen bolt and reverse the bolt direction. All that clamping was overkill. It was the first time I've done something like this and didn't want to take a chance of the springs coming unsprung. The bolt fell out after a light tap. Locktite finished up that task. I thought it odd that said bolt didn't have a locknut or locktite on it before I started.
Next post is a couple of issues/questions I need to resolve...