We finished our 5' x 10' teardrop camper build in July 2016. We've camped in northern MN, WI, MI, and Ontario with a trip to FL on the near horizon. We're hoping to travel to AK in 2018. These locations can be both wet and buggy.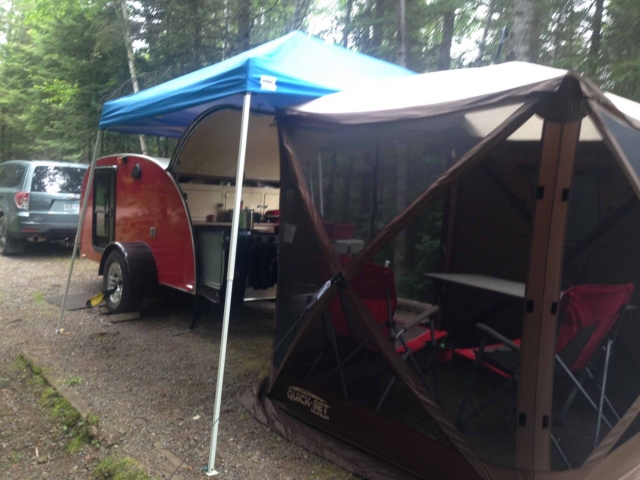 During our first season of camping we used an old EZ-Up style canopy to shield the galley when the weather turned rainy. We purchased a 6' x 6' Clam screen shelter to provide protection on those buggy days. This configuration worked alright, but it was a pain to put up and stake down two items and this setup didn't provide wind protection for the stove. It's hard to do good stir fry when the wind is blowing away all the heat.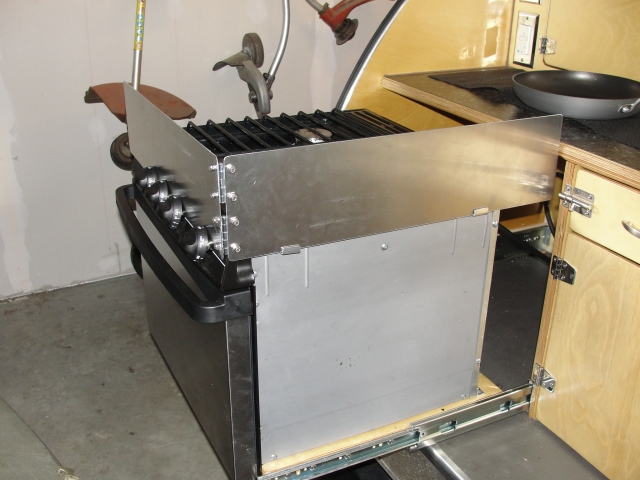 I made side shields for the stove from scrap aluminum to block the wind. These were pretty effective, but I had to add top shields for the even windier days. I began to mull over designs for a galley tent.
My first idea was to fabricate a "tunnel" that connected the back end of the teardrop to the 6' x 6' Clam shelter. This would provide wind, rain, and bug protection to the galley area. I would sew a zipper on the front edge of the Clam to connect in to the tunnel and the tunnel would strap around the teardrop forward of the hurricane hinge. However, as we used the small Clam shelter, we realized it was a little too narrow for our plan and it would still involve setting up two structures. We switched gears and decided to build a stand-alone galley tent.
My objective is to fabricate a stand-alone galley tent that will:
1. Protect from rain.
2. Keep out flying insects.
3. Block the wind.
4. Provide shade from the sun.
5. Allow plenty of ventilation.
6. Be a pleasant place to hang out in any weather conditions.
7. Be relatively easy to pitch.
8. Withstand winds up to 25 mph.
9. Be completed by December 21st.
So, here we go...