Hello all!
I've been planning for the past several months to build a (very) small and simple box trailer to pull behind my CR-V; basically a hard-sided tent. The only problem was that I had virtually no budget to do it with. I had the good fortune to acquire a small HF trailer and some RV windows and a door for free, so I started looking into the potential of building a trailer for around $500. I don't know if that sounds ridiculous, but at this point in the process I'm fairly confident that the finished cost of the trailer will be no more than about $600.
Here's the concept art: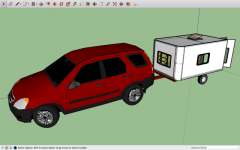 It will be roughly 5 feet wide, 8 feet long, and 4 feet high inside. There won't be any furnishings or wiring inside, which will cut down on weight, cost and complexity. I actually don't want a camper, just a super lightweight cargo trailer that I can sleep in; that's why the interior is so sparse.
And here's my current price breakdown, as it stands:
(This list has been updated, as the trailer has now been completed)
Chassis:
- trailer - free
- kenda tire load range B - $50 for 2
- Timken bearings + seals - $70
1/2" PT CDX deck - $50
- lights - $15
- Jacks $28
- Paint - $15
- Dust covers - $13
- Breakaway links - $5
Structure:
- 1" EPS foam - $50 ($-5 per sheet x12)
- 1/4" underlayment ply - $100 ($14-ish per sheet x7)
- 1"x1" structural framing - free
- additional framing - free
- Elastomeric roof coating for underside - $17
- Frame Screws - $17
- lag screws - $10
- door/window screws - $6
- additional fasteners - free
Furnishings:
- Lights - $12
- linoleum - free
- Shelves - $9
- curtains - $10
- trim - $13
- wipe on poly (2 qt) - $18
Exterior:
- roof vent - $25
- windows - free
- door - free
- spray foam $5
- canvas $27 ($13-ish per 9x12 x2)
- gripper primer - $160 (7 gallons)
- 2 gallons PVA primer - free
- gallon topcoat paint $15
- rubber seal $15
Cost estimate = $753
Cost offset (items sold):
tire -$10
window -$10
vinyl -$50
Extra paint -$10
Extra rv door -$5
Total: $668
Well now, on to business. Here's the trailer as I received it: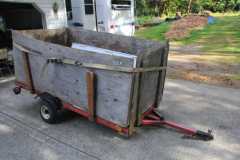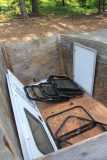 1 trailer, 4 RV windows and 1 RV door for free! Lots of work needed to be done though...
I started with stripping the trailer down to parts. There were some pretty badly damaged spots.
I sanded and painted every rusty spot, and recoated the exposed sections with that classic HF trailer red.
The wheel bearings were shot and I only had 1 dust cover, so new Timken bearings and some Venture 52mm dust covers were in order. The installation went fine,
after
I returned the US standard-sized bearings I bought and got a metric set. Shoulda measured first...

I discovered that the Venture dust covers were a few mm too short and the centre rubber plug was rubbing the spindle. Fortunately the metal was soft enough I could just pry the centre of the cap outward a bit to clear better. Crisis averted!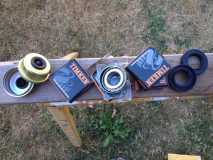 The original wiring was shot in places (if it was there at all) so a new light kit was in the mix too.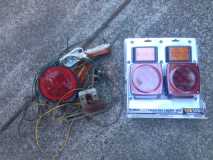 Aside from that I added some Kenda tires, and a tongue jack. Doesn't look half-bad!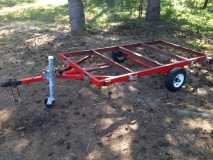 At this point I'd sunk about $200 into the project, (so much for a
free
trailer) but even with a new trailer I'd still have to put $120 into it to get it "highway worthy" in my opinion, so I'm doing good so far.

Now it's on to the tricky stuff: the box.
I was actually planning to use XPS foam (the pink stuff) for the wall construction, but lucked out on 12 1" EPS panels for less than $5 a panel. I'm hoping that because the trailer is small these will be strong enough when glued together to make 2" panels. Peeling the plastic and foil off was a fun project...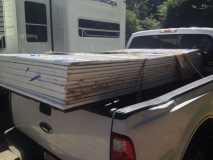 I've got 5 gallons of Glidden gripper, 2 9x12 canvas drop cloths, 12 1" EPS foam panels, and I'll be picking up the plywood sometime this week. I'll update as things progress. Wish me luck!