Been awhile since I updated, lots of work, and progress but feeling a bit overwhelmed with how much is left to do.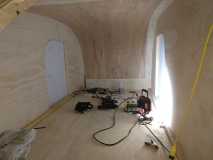 The inner ply had to go on so I could brace the insulation against it from the outside since you can;t push a wedge in backwards. The bottom most front panel is already back off so trailer wires could be pulled inside while outer ply (and PMF) are applied. The thinner outer strips (lighter color) act as 7 1/2 ft electrical panels for my running lights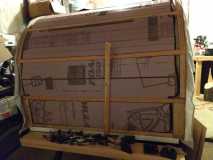 Insulation along the front curve, section 2 wouldn't stay put so I had to clamp a stick in place until the outer ply went on. The wire conduit on each side is for the marker lights that will go along the roof, surounding gaps will eventually be filled with spray foam.
Outer ply is in place. More woodplastic than I wanted to use, probably more than i need since it will be covered in pmf but decided to be relatively thorough to keep the canvas from sagging into gaps.