I made it around the corner now. These front corners are the complicated part. I can now see the compound radius that I will need to fill with foam and skin inside and out with plywood. I have done all the math for the pieces and feel pretty confident that it will work out as I have envisioned it.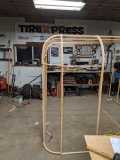 I found a piece of 1" foam that was the exact width I needed to fill this small gap so I had to test fit it. Not sure yet what adhesive I am going to use between the wood and the foam. Any suggestions???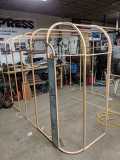 I used some pieces of wood on the floor to test out the size of the bathroom. The ladder is the toilet and the space toward the front will be the shower. I am thinking that the angled door I had planned is not going to work out. It will be a little cramped by the toilet. I am happy with the shower though. I was concerned that the radius on the ceiling was going to be a problem, but it is ok. It certainly isn't roomy, but there is ample space to get the job done.