One of the complaints of many RV'ers is the amount of sound and vibration from the water pump. For those of us with a teardrop it can be earth shaking and if you are trying to make coffee first thing in the morning. For she who needs a major caffeine jump start, well

To put it nicely she may be reminded of the vibrating bed in that cheap motel way back when, with the pump starting.
I knew that vibration was the enemy particularly when it is attached to the sounding board that is your trailer

Flojet made some effort by using rubber feet but they are way too solid. From industrial exposure I am aware of bubble mounts and have been looking. This shows the rubber feet with the bubble mount, well mounted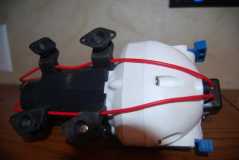 They do a very good job of isolation but the problem was finding ones small enough to do a good job of isolation. I found on Ebay a batch of 40 small bubble mounts and won them. they are about 1/2" high.
The pump is about five pounds and the mounts will support about five pounds each in a horizontal plane. They are strong enough for this application and with the support of the pipe survived the accident. I talked with an engineer with the manufacturer Barry Control
http://www.barrycontrols.com
these are available through their distributors and are the ME 100-1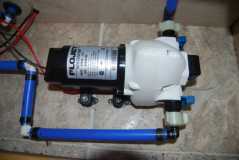 OK it does not truly silence the pump, but I would bet an 80% reduction in sound and 90+% reduction in vibration. I also use them under the air pump used for the air shocks.