Now that we're pretty much done with most of the heavy lifting on the build I figured I would get the propane bottle filled up and test out the sweet stove I saved from the original '72 Starcraft. When I hooked it all up, much to my dismay, no propane came out. I have some pics below if that helps. When I tighten the regulator all the way and turn on the tank, I hear no sound and smell no propane. Then when I walk back to the stove and turn on all 3 burners, I also hear no sound nor smell any propane. The next step is to turn off the burners and walk back to the front of the camper. Then I slowly unscrew the regulator, with the tank on, and as the regulator gets about a quarter to half way unscrewed I hear a whoosh of propane and smell a little bit of propane, but that's it - very fleeting and it stops suddenly.
For the next test I unhooked the flex line from the stove, so now the propane bottle is hooked up to the regulator, which is hooked up to the 1 inch black pipe running under the camper, and no stove attached. Now, when I turn on the propane in these circumstances I also hear nothing and don't smell any propane (at the bottle and back at the open black pipe).
I believe we might have a faulty regulator, but if anyone has any suggestions or wisdom to offer I would be all ears.
Thanks!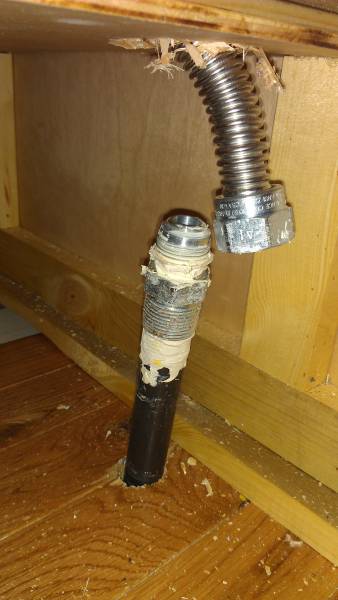 Burner hookups - hopefully there isn't a valve or something that I'm missing