Oh great and wise innovative, bodger... I like the "grab the cool air from under the trailer" idea. My sofits are periodically punctured, but that area in the sun does heat up and then the air brought in there would heat up. Hmmm, and the little fans from cooling pc parts I've got stacks of, as soon as I pull them out of the stack of old pc power supplies. (now you guys know where I get most of my electronic parts from... ;-) Not as good as a centripetal tiny squirrel cage, but 12v at 0.25 amps each...
Next question my epoxy guru.
look at this floor, can epoxy level it easily?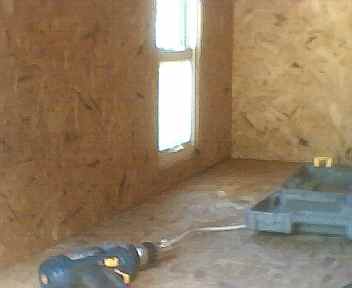 I already sealed it with a latex floor paint (for concrete or wood) but I want a bead of water to run right off that floor with any kind of an angle on the trailer. (I'm considering making the entire interior "the shower" but I have to make the floor sealed and drain. Oh, and I have to hydraulically seal all the cabinets so bedding and clothes stay dry. It would beat washing in a bucket and be the height of luxury. (as long as I had water, heat for the hot, and everything else done.) Even better in case the roofed leaked some time or the road I traveled were flooded and the trailer had to swim to keep up with the tow vehicle... ) Still, I plan on 3-4" of foam rubber and a piece of shag carpet. So the jagged floor might be a bit away, but I'd hate getting accidental splinters should I ever have to take those out again and work on the interior. How shallow can I pour that in and have it set up level? (that would be fun, and the fumes. LOL) or squeegee it with hard plastic. hmmm... I'd never get my paneling walls off again, but it would seal. :-)