It's well below zero here in Minnesota today, so building a foamy is out of reach for a while. But I'm planning and acquiring parts for spring. If I believe in spring it will come right?

I'm thinking of building a 5ft wide foamy on an 8x4 HF Heavy Duty trailer. I already owned the trailer so it seemed like a natural choice.
Well I'm cheap as anybody when it comes right down to it, and a little while ago I found some RV windows on craigslist for $5.

I figured only the little one would fit.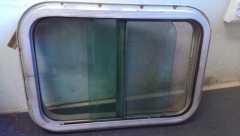 It's about 22x15 a perfectly respectable, if a bit dirty and slightly beat up, small sliding window. I am planning to clean it up and paint and tint it. I figured if I made support frame 1x3s probably, cut to fit around the window and it's curves and cut out a space in the foam like a hard point and gorilla glued in place before covering the walls that would probably hold it in. What do you think?
Well then the guy also had five other windows for $5 each or $20 for all 6.

I didn't take them all in a bit of remarkable restraint. But they were huge. I took one of them figuring even if I decided to cut it apart and just use the tempered glass plates $5 was a great price. But then I got to thinking can I mount it?

What would a 21.5" by 57.5" window look like in a teardrop? The answer is of course HUGE. I've been playing around in sketchup. Please ignore the hideous colors.

I was trying to explain something to my loving partner who is dense about 3 dimensional things and the color made it clearer.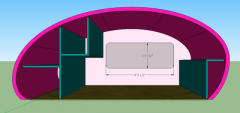 Is that the worst idea ever? I am only into the window for $5. But imagine all the ventilation. Would it be too heavy? It's just like the little one pictured above but huge.