or No Regrets Bucket List Tour....or No Regrets BLT....
The Build has started in my Book....the name will appear later....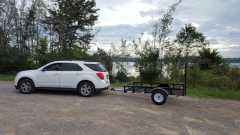 I have the trailer, a TSC 5x8 by Carry On, 2k axle, 13" wheels, mesh floor low open rails landscape trailer with ramp. I will need to remove the ramp, extend the tongue, add some diagonal bars.
I am starting with the idea of a copy of Camp Capsule Foamy...at least that is what am starting with...that idea, but likely to morph into who knows what? I am looking at trying for close to the same interior space and weight that ScottE achieved. I am not hung up on what I build looking exactly the same.
I guess at this point its important to list as part of the build....exactly what is driving the build....
Seven years ago I prepared my 34 Travel Trailer and my GMC 2500HD Duramax/Allison for the road.....full time.....and I almost made it.....but.....like many of you have found 'life' happens....I already had a diagnosis that is degenerative and it looked like I had maybe two years to get a year on the road....maybe....so that was the plan.....well so much happened....it wasn't the physical ability that kept me off the road, not in total....it was only a part....fast forward to NOW.....
The degenerative part 'HAS' got to a point....where I can more likely predict where I won't be able to physically build anything.....nor spend anytime on the road......I am almost there....it has taken a little longer than anyone thought, but, hey, I am good with it....I am ready to hit the road.....but first I need to build the ship.....
I am long time tinkerer....build a lot of 'things'.....master craftsman = NOT.....I rehabbed a few houses and still have the tools...I mostly watched....
I am going to attempt to build a foamy.....sold my truck, have been living in my RV all these years....me and the wife.....I have a recent model Equinox that I pulled a rented teardrop about 2500 miles back in June for proof of concept....it was a Rustic Trails Papa Bear....just under 1k dry weight.....and all was good....
So, I am building to take that Bucket List Tour.....one last trip to nowhere in particular......and no particular speed....for as long as I want.....
I am declining.....and I have had a horrible summer.....heat doesn't work for me anymore....and I am not just saying that....so, now that fall is here...its time....So...this has to start and get built in a timely manner.....as next year probably isn't going to work for me.....
So, Big.....it has to be comfortable enough to stand in, sit in, sleep in and potty in.....
It has to Bare enough that I can afford to build it.......and it won't take as long to build...
It has to just Essential enough that I can tow it, sleep in it, and sit, stand and...potty....with A/C......
If I can figure how out to make it easily removable, that would be the best thing for me, as I still have a lot of stuff, and the new trailer is taking place of my truck....and I would rather not have two landscape trailers and a third box trailer....I already still have a 6x12 box trailer that is a remnant from when I rehabbed houses....I just don't have the tow vehicle for it....so I use it for a tool box. (story for another day....I was contemplating using the box trailer for a conversion to a camper....).
It has been raining here the last two days....I am itching to get started....I have a old metal carport frame with a large tarp slung over it....basically it gives me a 20 x 24 pavilion to work under....no garage.
I have the plywood to start the building the 'tub'....once I get it built....I may build it a foot overhanging the rear, as I intend to 'play' with the removable idea for a few days....
At the same time....I have obtained a little of just about everything needed to start....I have a few 2" sheet of foam, a 1" sheet, that my wife and I will start testing the fiberglass screen, muslin and twill we have with Titebond II and Gripper....all of which we have on hand...I thought about epoxy or resin, and thats about as far as that will go...last time I did fiberglassing....I sloughed off most of skin on the inside of my throat....and scared me enough to leave that stuff to others....along with my other issues....one of the reasons for 'rolling my own' is that I am allergic to most everything....and what I am not truly allergic to....just irritates me....so....there we have another driver....
So I decided the way to get started actually building and not just accumulating 'stuff', would be to say I was, so there you go....
and am I ready to cut Foam? how about 17 Variacs?