My apologies if this is the wrong forum.
A previous owner (not the one we bought the trailer from, the one they bought the trailer from a year or so ago) had the roof professionally sealed up.
There is what appears to be old water damage that was painted over around the vent: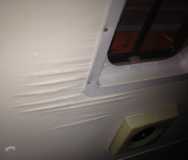 It isn't soft, it's as if the top layer of plywood split but nothing deeper. My thought was to cut out that top layer, and then do a thin layer of wood putty to even it out, and then paint over it. Is that the correct course of action?
Eventually we want to replace the vent with a Fantastic Fan, but I'll need to put 12v power to it (there is 12v nearby, if necessary I can do a surface wire), and that isn't going to happen immediately.