Many of us, me included, did the canvas over plywood using Titebond2-Paint and/or Just-Paint on the floor system bottom. I did a thinned titebond2 coating over the plywood, waited about 30 minutes for it to get almost dry then put on a fairly thick layer of full strength. Laid on the canvas and immediately covered it with a full strength layer of titebond2. Used both rollers and squeegee to force the glue into the fibers. Waited about 24 hours and then coated that with 2 coats of Kool Seal. I used the kool seal simply because I had 5 gals of it laying around. A couple of weeks later, after I had the floor system flipped and installed, it came time to trim down the canvas that overhung the sides. I had to use a multi-tool cutter and it wore out 2 blades. The canvas parts that were accidentally stuck to the floor sides would not peel away, I had to cut them off of the wood.
I've covered the front and rear facing members of my trailer with titebond over 2.7mm ply. Duck canvas was then applied to the glue and a covering coat put over that. Smoothed out everything and remember, this is all on a series of curves. Absolutely no wrinkles or creases. Waited a couple of days and began applying semi-gloss exterior latex house paint, sanding between each coat. I have 4 coats of paint on now and love the finish. Once again, completely sealed and now a part of the wood.
This was the first layer of paint over the TB2-Canvas covering. As layers have gone on I've sanded. I did not want a glass smooth finish, but realized I could easily get it using this method. My retired body shop owner neighbor who follows my build with extreme interest commented that he did not believe this could be so strong and finish out so nice. A couple of days ago I hit a corner with a 20 oz. hammer to test it. Not a dent, but did leave a hammer mark.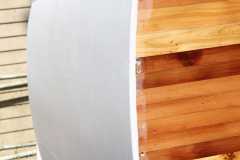 I sort-of copied this member's method (Rowerwet). He has had it on for years now (as well as many others). Here is his Instructable page, but he also has his build galleries. You can use just paint and not TB2.
http://www.instructables.com/id/Poor-Mans-Fiberglass-make-nearly-anything-weatherp/
http://www.tnttt.com/memberlist.php?mode=viewprofile&u=8548
If I knew then what I know now, I'd have never bought or installed the EPDM on the top section of the roof. The canvas system would have been well up to the task, a heck of a lot cheaper and much easier to work with.