Got a great deal on a used camper shell for our Taco! Fits, and it's even the right color (matches the dirt in some of the places we like to camp).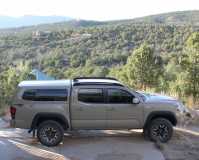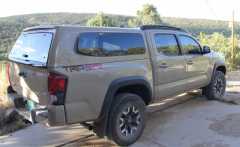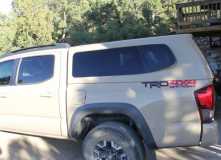 We think it will be much better than a tonneau cover for our planned long duration camping (now 4+ months) with our teardrop.
Just a few issues with the shell: According to the previous owner (a young man) it tends to make the Taco look like an SUV. I told Shelly (later) that it would make her look like one of those sexy young soccer Moms. We're okay with an SUV look (though I don't necessarily share the opinion that it looks like one); It's all perspective!
Seriously, the fellow says the front of the windows leak a little in serious rain. We are open to advice on any fix (or at least mitigation) we can do.
We also noticed some minor bubbling of the paint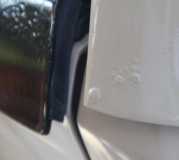 This may be water--it was stored on a tarp on the ground, with another tarp over it, and water did get on top the the bottom tarp. Shelly is thinking of poking each with a needle, draining the water, and then resealing. If anyone has ideas or experience, we thank you in advance for sharing!
We also want to redecorate our rear window
We both like the Zia, we both want the cow head off, and the deer is a mixed decision. (I like it!) We'll see how that one goes. So what's the best way to get one of these things off without ruining the window?
Oh, we also may want to replace the struts on the rear window--they don't hold the window all the way up anymore, and we will have to do some minor re-wiring in the Taco for the center break light and dome light. The young guy said he thinks there is a way to wire the lock so it locks with the rest of the truck, but we're not sure about that one.
As always, thank you all for sharing any experience or advice!
Tom