pchast wrote:How will you join the side gutters to the top section?
(rant)
This
is the kind of question I like, because it provokes thought, instead of worry.
(/rant)
Let's look at the picture: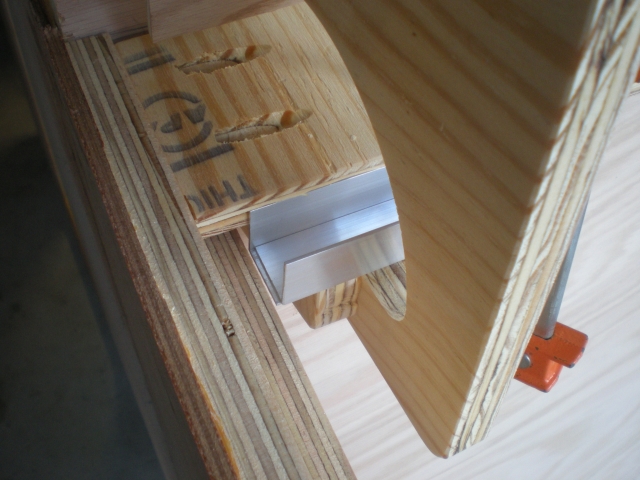 Here we see the top gutter actually meeting the side gutter, although there is a difference in altitude that needs to be fixed. No big deal. BUT, I'd like to radius that intersection so I don't have to cut the weatherstrip at the corner, lest some vortex form and ruin everything.

The side gutter is also a mockup, so we can do whatever is necessary to join up to it. (It's missing the inner wall/side here, which is also negotiable.)
I have a few half-baked ideas about how to do that radius:
1. I could fabricate a corner block with the required radiused 1/2" high x 1/4" thick stickin'-up-thing for the weatherstrip to go onto around the corner.
2. I could make a gutter across the top that has the corners and the stickin'-up-thing built in. Material could be wood, aluminum or glass/epoxy or some combo thereof or... something else. Wood might not be too good, as there are a lot of thin cross sections. It would/could be CNC machined, of course.
3. I could make a casting pattern, and cast it out of empty beer cans and used alum foil.
4. Actually, the 2 pieces of aluminum angle that I used to get
something
to look at isn't all that bad an idea for the top gutter. The width of the gutter can be made to suit. Some kind of goop can seal the seam and the join to the corner blocks. I would use thicker stock than the 1/16" HD had.
No idea is too weird if it can be built. Anything goes. Don't forget that CNC is available.
Any suggestions, anyone?
Bueler?
P.S. The weatherstrip is soft and squishable, so not to worry about that. We just have to get it to the right place and height.