When I built my TD in 2006 I wanted stabilizers on all 4 corners that would be easy to use and perform the stabilizing task with total reliability. I found the BAL light trailer jacks on sale at JC Whitney for under $60 pr with free shipping. That worked out to less than the regular cost of a pair plus shipping. I ordered 2 pair & mounted 'em on the corners of my 1800# HF trailer before I even started TD construction. The BALs served admirably to level the trailer during construction, as well as provide splendid stabilization for camping. These are the 23026 series I believe, & come in either 17 or 20" height & around 750lbs static capacity per jack.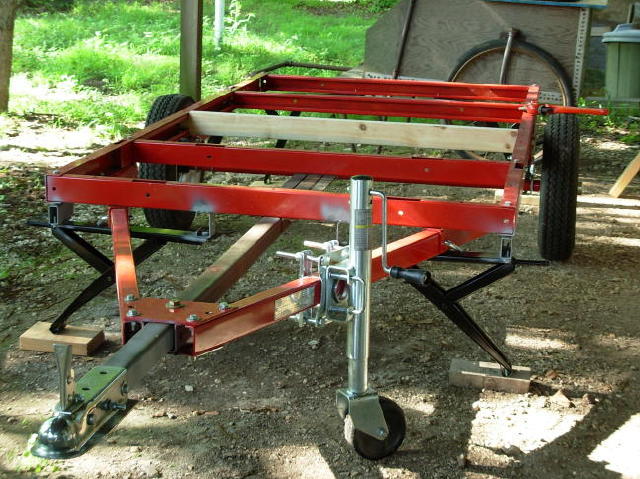 Tho I've never tried to lift my entire TD with only the BALs, with their capacity & my TD weight loaded for camping (1150#), I wouldn't hesitate if needed. I might have to exert a little more 'oomph' if using the hand crank but with my 18v cordless DeWalt drill & lift screw adaptor, it'd be an easy chore.
BAL also makes a near identical stabilizer/leveling jack called the 'C' jack. It is quite a bit heavier (both lift & weight wise). It is available in 19-31" lift & the static weight capacity varies from 3K# to 5K# depending on lift height. The 'C' jacks have a 'nut' welded to the lift screw which makes for more positive lift/leveling. If one wanted to both lift their TD off the ground & stabilize it, the 'C' jacks might be worth investigating, even at their higher price.
BALs are easily installed & have worked very well on our TD. Deployment takes only a minute or two per jack, even less if you have a cordless drill & lift screw adaptor. I liked them well enough that when we bought our 17' Casita Spirit Deluxe, I located & bought a pair of light trailer stabilizers with sand pads, & installed them on the rear of the Casita to take the place of the Atwood 'swing-down' stabilizers that are factory equipment. Like the BALs much better.
If I was doing it all over again, I'd mount the BALs at a 45 degree angle on the corners of my TD, rather than perpendicular to the side rails. We've had absolutely no problems with instability, just think angle would be better. Also, it'd be a simple matter to devise/fabricate mounting plates for angle mounting. We've towed our TD in the neighborhood of 30K miles, over a 10yr period. I wouldn't give up the BALs under any circumstances I can think of. This pic shows the BALs in use at camp...