I started this project about March 15, 2010
I bought a Northern Tool bolt together 5x8 trailer and added 2' feet. The little metal pieces sticking up, was a great idea I had gone bad so I hammered them off. What it was suppose to do is connect the chassis to the deck and bolt onto the cross members, but I had to slice the deck and then I was worred about water getting in and so on and so forth, so after I tarred the bottom I hammered them down. But it was worth a shot!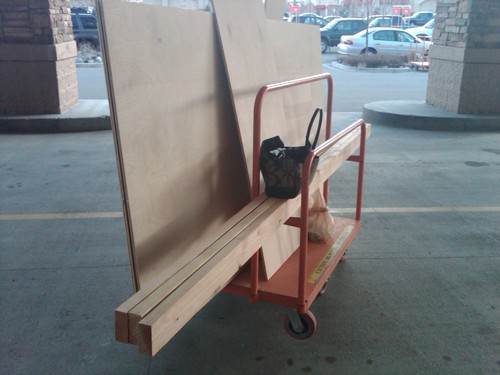 Home Depot is within 1/2 mile from my house, thank goodness! Now everybody at Home Depot wants updates everytime I go in there about how the trailer is coming along. I don't share the "bad" stuff, only successes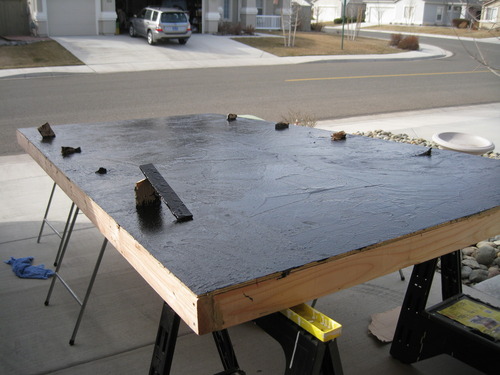 The tarring process isn't as bad as I imagined, however, I can't figure out how everbody is saying they use a brush to spread it. HA! I used a paint stick and a putty knife. I did get some on my old pair of jeans and I think I have now washed them about 10 times, and you can barely see the tar anymore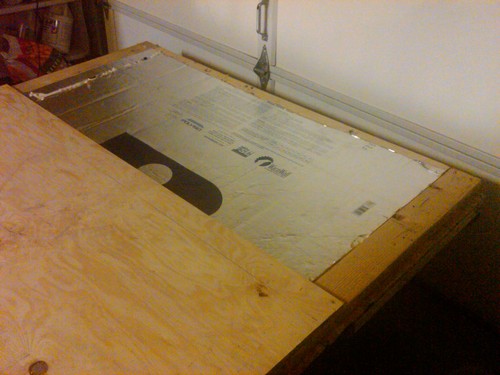 Yup the rigid R Tech insulation is the best. the R factor is not real high but I am hoping it will make a difference. I could not find anything better.
Cool retro black and white floor was a remnant piece from Home Depot. I really wanted the real black and white squares but the cost was out of the question. I used 2 1/2 cans of vinyl adhesive and my kitchen rolling pin instead of a rented vinyl roller. There was some very small air bubbles under the vinyl that I just gave up on trying to get them out, but in the morning the bubbles had absorbed themselves! Woo Hoo.... Very proud of my linoleum laying.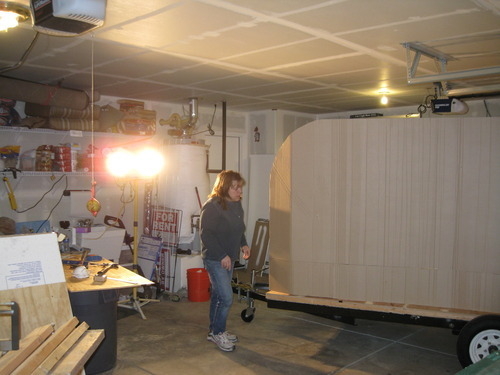 This is me in my sweat shirt walking around the trailer with my cardboard mock up. I really wanted to put the trailer outside behind my truck to get a real good look at what it would look like driving down the road. In 50 mile and hour winds and snow, it was not feasible. I did not cut the door yet.
Me again using a router for the first time in my life ~ thank you craigslist! Bought a new bit and I'm thrilled at how professional it makes everything look, as long as I have a jig. I am terrible at following the lines, even in third grade my teacher wrote on my progress report that I needed to slow down and cut on the line with my scissors. I still am bad at that...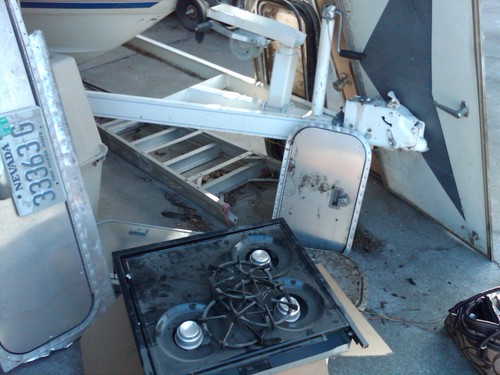 Went to a used RV junk yard perse' and bought 2 doors, 2 windows, a stove, 2 hatch doors and a fan. Well after thought is... I'm no longer going to buy things in advance and I'm gonna try to stop reinventing the wheel. The doors were not the right size but I thought I could make them work by modifying them. 10 hours later they were modified but it took 10 hours out of my build time. And now I decided that I want doors double that size. Sooooo anybody need 2 doors? I'm keeping the hinges.
I will keep you posted