Well... here goes.
This will be the diary of my build of my first teardrop trailer.
Although I've done a fair amount of woodworking over the past 30 years, built some nice furniture pieces, remodeled an old farmhouse, designed and built a pretty nice kitchen with good-looking
(if I do say so myself)
red birch cabinets, and built some nice okume strip kayaks from Chesapeake Light Kits, this will be my first teardrop, and my first venture into something with 12 volts, an axle, and wheels.
I've been scouring the internet and this site for a couple of months and have settled on a 4x8 profile somewhere between Grant Whipp's L'il Bear and Steve Frederick's design for Peg Brown. I've gotten my shop cleaned up, my space organized, supplies ordered, and some of the parts I'll be needing sourced and on the way.
I have a large, very professional and competent welding machine shop 3 minutes away in our small town and they are going to weld up the chassis to my specs. In my seventh decade, welding is not a skill I wanted to develop. I am also blessed with having a trailer sales, parts and service facility a few minutes in the other direction, so I was able to talk through a lot of the Dexter axle issues with them (and with the Dexter engineers via phone), and order wheels, tires and chassis parts easily
(and economically it turned out.)

Day 1 -- Dec 2
I spent $45
(well spent, I decided since it saved me at least 8 hours of head-scratching)
on Grant Whipp's full size drawing of his L'il Bear and got to work on December 2.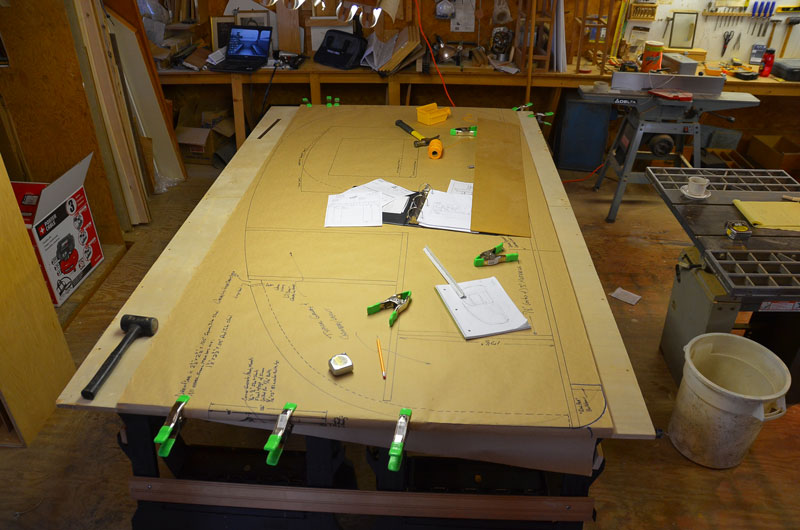 This is Grant's L'il Bear Profile secured to two sheets of ply that I will cut out to use as my pattern
(one for the pattern, one for a safety backup)
as I build the teardrop.
I'm altering the profile a bit to somewhere between a L'il Bear and Steve Fredericks Peg design.
That was enough thinking and head-scratching for Day 1. Tomorrow I'll break out the saber saw -- not my favorite tool.

Okay... Day 2.
After transferring the lines from the paper to the plywood patten, I am carefully
(note tongue in correct corner of mouth)
cutting out the pattern(s). Saber saw worked better than I remembered, maybe reading the manual and that new blade helped.
So here's what it looks like....
Not sure we're there yet, but there's still time to make changes.
My wife, Carol, thought the profile looked like a whale, so she drew on an eyeball and a mouth, and we instantly named our tear "Moby".
While we ponder if this is the final profile, I've got to glass the exterior panels.
That's one of the exterior panels on the left. Yellow Birch.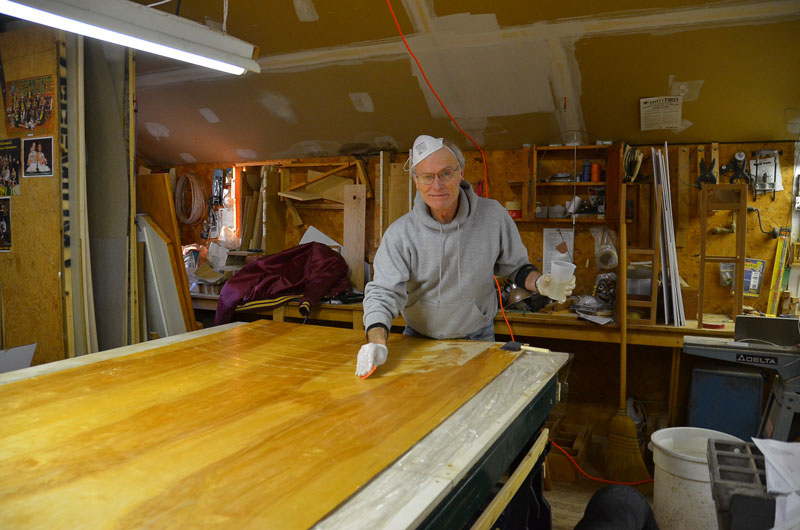 Here's the first coat of epoxy going on. I know the respirator is supposed to be on my face, not my head, but my glasses would steam up and I couldn't see a thing. I'll wear my contacts from now on.

Day 3
And here's the Fiberglass going down.
Day 4
And here's one of the exterior sides after the second coat of epoxy to fill the weave of the fabric.
All done with the exterior sides for a bit. I'll sand and varnish them later in the build. Right now I have to do some planning on what the interior is going to look like so I put the bulkheads, doors, etc in the right places.
(I hope.)