How to upload an image if you don't have an album...
Click on "Gallery" in the upper right hand corner of the menu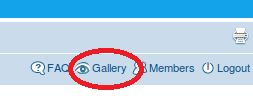 Click on your login name behind the words "Your Personal Album"
Then click on the new image button.
Browse for the file you wish to upload...
Click on Continue
Add a description and submit.
That's all there is to it. Pretty easy once you've done it once or twice!
We modified the gallery so that it'll accept pictures up to 8 megs in size, and resize them automatically!

Mike...
P.S. Click here for Kerry's explanation!
viewtopic.php?f=26&t=49037&p=914686#p914686