KCStudly wrote:

HKBB wrote:I'm still trying to decide if I should cut out the doors before laying the strips or after. I'm half afraid that if I do it after, they won't line up when I hang the doors. (Any advice would be appreciated!)

HKBB, You might want to consider routing the door in your main panel first, but leave like 4 tabs (or uncut areas) about an inch long near each corner, then strip it as one unit. This way you only have to cut through the short areas, you can use the preliminary cuts to guide your router for the final cuts, and the strips will all line up perfectly.

Just a thought and a variation on techniques I have seen used here before.
Hi Lena,
I did a similar technique as KC said. The interior of my teardrop is engineered flooring (the plywood type; not the fiberboard type) and I wanted the strips to line up. The pictures below show how I did this. (Click on them to see a larger images.)
The clearance I needed between the door opening and the door was 1/4". (I wrapped the door opening and the door with aluminum trim which brought down the finished clearance to 1/8".) In my plywood framing - actually MDO framing - I cut the opening with a 1/4" top bearing template bit using the 1/4" MDF template I made as a guide. For most of the opening, I routed through the full depth. I did leave some "tabs" - areas marked in red - where I only routed partially through the MDO to keep the door framing connected to the sidewall framing.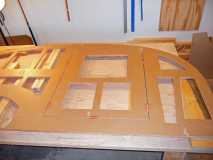 I then applied the engineered flooring running continous through the door opening.
This is what it looked like on the back side (outside of the teardrop) before cutting the door.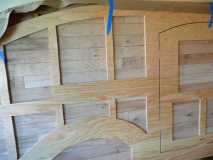 I then used a jig saw to rough cut the door from the rest of the sidewall keeping the cut line approximately in the center of the opening.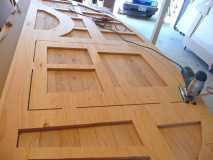 I don't have any pictures of this step, but I used a router and template bit to clean-up the edges around the door and the door opening. The bearing in the template bit ran against the 1/4" clearance that I previously routed except where I left the tabs. In the tab areas, I clamped a straight piece of scrap and used that as the template.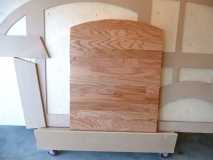 On other thing, as slow as I work, it was going to be a long time before I ever got around to finishing the doors. (Actually it was about 2 years later.) To keep the doors from warping, I clamped them together and stood them up vertically.
Take care,
Tom