My last project prior to picking up Compass Rose for repair was a insulating jacket for our Waeco refrigerator. There were two goals reduce absorbed heat/sun and increase insulation a bit. This project would be equally valuable for a cooler. The Waeco is gray and dark gray and when we are traveling it sits in the back of our Subaru plugged in. I know from experimenting that the foil plastic bubble insulation can give a 25% thermal advantage. I tried it on a toaster oven using a thermocouple, one layer 25% two layers 45% three negligible difference, and by the way heat will melt the plastic bubble stuff.
Cut it up to make it fit.
Fit around the handle (handy when you can take them off.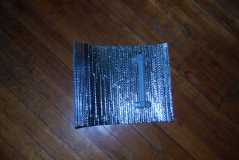 Rough fit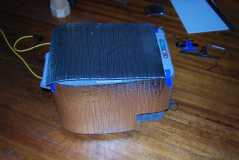 Finished
Except for a cut out for the latch