After 40 years of camping my wife said that she was over it, camping not me. So I converted this trailer with the idea that it would be just me and an occasional grandkid using it. The grandkids and I have had such good times that my wife now wants to go and bring the dog. I now need a trailer that is at least twice as large and that has all the standard RV features.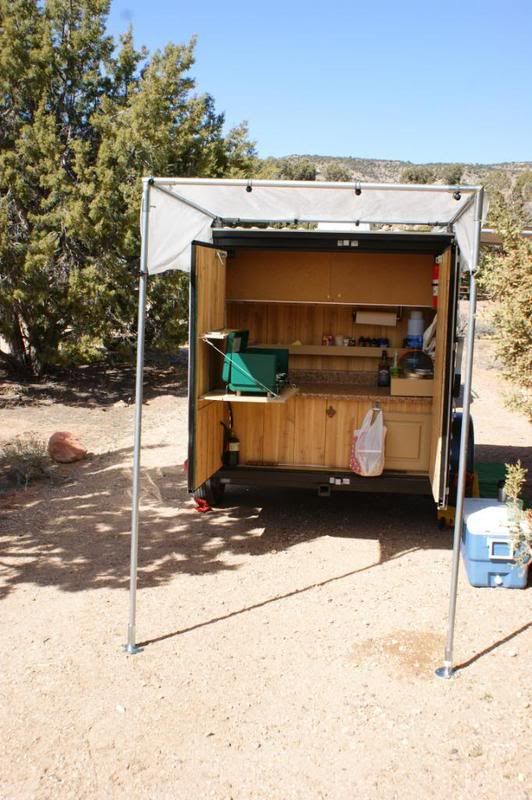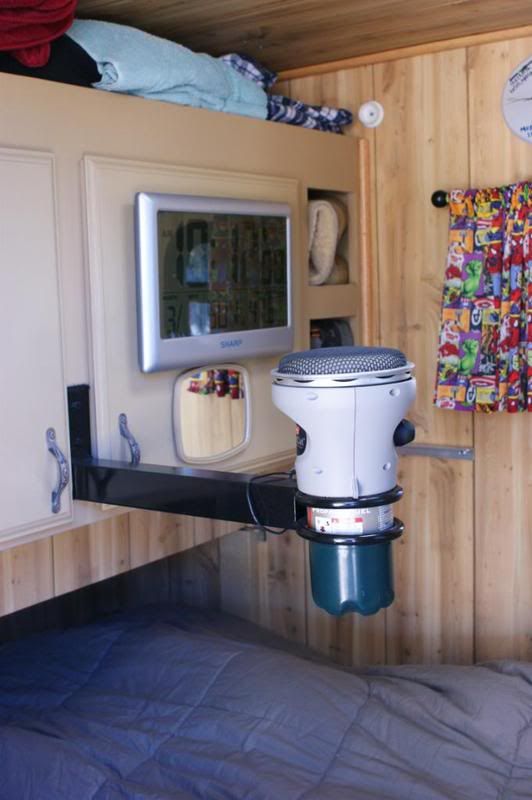 Fortunately, I documented the build on the Cargo Trailer section of this site. The subject is: Another 5x8
viewtopic.php?f=42&t=28426
Base Trailer:
5x5x8 xxxxxxxx cargo trailer purchased 12/31/2009
Barn doors, side door and tongue box
15 in wheels with spare, steel fenders
Back and side cam door locks
Modifications Exterior:
Silicone seal and painted underside floor
Welded receiver for bike rack or ?
3 windows, roof vent with Maxflow cover
Side RV door lock
3 matching (same key) master locks for back door, side cam lock and front storage box.
Air tabs
7 pin RV plug
Campinglab side awning, rear cook awning (great for snow or rain)
Rear Kitchen:
Fold down propane stove
5 ft. wide counter top
12 volt light
Upper 5 ft. shelves with sliding doors
Side mounted vent
Small 5 ft. shelve/rack above counter
Counter top hand pump water station + ss utility bowel
12 volt deep cycle marine battery with access door (totally sealed and vented to outside)
Barn doors can be locked at 90 deg to kitchen (helps block wind/rain/snow)
Interior:
Entire floor, 5x8, available for sleeping. Includes customer folding 7ftx5ftxin4 high density futon pad and cover (2 pieces)
5ft wide cabinet mounted so that the top provides a 6in tall shelf
One inch foam insulation all walls and ceiling. ½ inch particle board all walls covered with 1/8 fake wood panel.
12 volt wiring: lights, 2 charging sockets, 800 watt inverter.
Cabinets (mounted on back side of kitchen wall)
3 Marvel Super Hero curtains
Smoke detector
Front 5 foot above window shelve
Various hooks (for hats, coats, backpacks, etc.)
2 book racks
Removable catalytic heater mount and heater (1500 Btu) Not too big, not too small.
Floor painted with thermal barrier paint (3 coats), covered vinyl floor
If you have any question, please call me at 949.279.2017
Thanks, Steve