I started my build in October 2011 by ordering a 12' x 20' x 8' (6' high sidewalls) Rhino Shelters portable garage and setting it up in my backyard. I also ordered a 5'x'8' bolt together Northern Tool trailer on sale. The trailer turned out to be tricky to register as I had it shipped to my workplace and the company that shipped it filled out the trailer's certificate of origin with my name as "Ron Food Research LastName". Food Research is the building I work in and has a loading dock. The first DMV I went to had big problems with this. Striking out Food Research with a single line and initialing above the struck-out text with the certificate submitter's (not the notary public's initials) and going to a different DMV got me my registration with no questions.
I assembled, registered, and got the trailer inspected in the Spring and then then stopped making progress until recently when I finished learning my CAD package (MacDraft Pro) and got the basic side-view of the trailer sketched out.
I've got a Dexter Torflex 2000# axle with electric brakes and 13" wheels and tires on order that should be here Thursday. Today I picked up plywood, insulation, and 1x4 poplar for floor framing. If I don't slack off tomorrow I should be able to get the floor built.
Here's a dimensioned drawing of what I'm going to build:
The dimensions of the body, trailer, axle, wheels, and tires should all be right, but the length of the a-frame tongue is probably not right.
I started with one of angib's DXF files that had a 4x8 harbor freight trailer and then got rid of almost everything except angib's 0 layer and the trailer, then redrew the trailer to match the dimensions of my Northern Tool 5x8 trailer. The 9' Benroy was drawn using Mike's tutorial on drawing a Benroy but modified to make it 9' long. The spars aren't all drawn in yet, the hatch isn't drawn in, no cabinets are drawn in and the dividing wall between the cabin and galley isn't completely drawn. The doors (two of them) will be manufactured doors, but where I show the door on the profile is probably not where I'll end up placing it. I've decided I've drawn in more than enough detail to start building.
I really wanted to make it 10' long and have a closet up front, but it looks too long when I stand up 4'x10' of foam on the trailer. 4'x9' looks OK.
Walls will be 3/4" ply framing with cutouts for insulation. 1/2" ply outside wall sheathing, two layers of 1/4" ply on roof, unsure of what the inner walls and ceiling will be sheathed with. The outer walls and roof will be fiberglassed and epoxied and then painted. I won't be fiberglassing the floor but will probably use latex paint on the bottom 1/4" layer of floor ply so it can breathe.
I'm thinking of putting in a drop-floor for sitting up on rainy days. I'll probably end up building everything else first and doing some camping in the teardrop before I build the drop-floor, but I'll frame in provisions in the floor now for adding the drop-floor later.
I had problems coming up with a way to have a drop floor box that was as deep as I wanted. I played around with a telescoping floor box but couldn't come up with a design that I thought would be easy to pull back up into travel position with serious binding issues. I ended up with an idea for a open-bottom floor box with a ledge at the bottom of the box and another, smaller box that can sit on the ledge. The smaller box would have angled sides so that it wouldn't bind in the large box and wouldn't have to be pulled absolutely straight up and dropped straight down. The smaller box can be dropped in with the open side of it down for travelling and to maximize ground clearance. It can also be dropped in with the open end up to allow for legroom while sitting up. I've got a few concerns about actually building it: 1) figuring out a seal between the two boxes that won't be damaged when dropping the smaller box in place, 2) figuring out a latch to hold the small box down in either travel or legroom positions to keep curious animals (or people) from pushing the box up and entering the trailer from below, and 3) not wanting to deal with a marvelous place for spiders to nest when the box is upside down -- pulling the box up could easily reveal a bunch of creepy-crawlies that are hanging from the box.
Here's a drawing (not to scale except for floor section):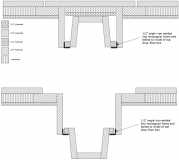 I think I've got some assembly photos of the portable garage and I'll post them soon as well as trailer floor pictures when I start building it.
I've already learned a few things: I should have had someone build me a 4'10" x 9' trailer with the axle and brakes I really wanted rather than dropping a 9' long floor on top of an 8' long trailer -- it would have been less expensive and faster. A trailer a little less than 5' wide would have worked better for roof sheathing. I would be cutting down the width of bolt-together trailer now if I hadn't already ordered a torsion axle with the brackets set up to bolt directly under the 5' wide frame.
I very much welcome any suggestions on the rest of my build.