Okay...Leo (Frosteez) is head builder...so I get to be chief documentarian. We are building a 5X8 Generic Benroy on a HF trailer. We'll try to keep you updated...and include pics!
We ordered our HF Model 93747 trailer last week & picked it up Friday afternoon. The plan was to put it together Sat morning, build the floor, seal it and bolt it down by Sun afternoon. Well....that was the plan...
First, we had to trim all the crosspieces by 1.5". Leo had purchased a blade and planned to use the chop saw at the yard; he works for a lumber company

, BUT he couldn't get the blade off so after hemming & hawing he bought a new toy...seen in the pic below:
Moving along, with a tad later start than planned, we start bolting the trailer together...squared it up...it was looking good! Now, while this next part seems incredibly obvious to us NOW, it didn't at the time...OKay?
The modification of the trailer width had implications we hadn't anticipated
. First of all, the axle had a plate with an indentation for a bolt head to rest in; with a narrower trailer the bolt head now rested on the plate itself, which meant we had to grind out an additional depression in each plate in order for it to fit.
Then, once we started assembling the tongue, it became apparent the original holes in the frame would not work...like I said ..it's obvious NOW! Either the holes in the front crosspiece or along the sides needed to be redrilled, so we went with the ones on the side. Still, the pieces extend slightly past the frame...hopefully, with the sides covering the frame, that will be less obvious.
Finally, we moved the axle back...it's default location was at approx 42" from the rear of the trailer; we were shooting for closer to 38" and that happy medium Andrew's calculations suggest. We were able to utilize existing holes in the frame at 38.5" so that's what we did. Saturday was gone!
Sunday after church Leo got started on the floor...he had precut the pieces of 2X2 and it went to gether pretty fast. Then he wired the trailer as we will haul it to DMV and license it as a flatbed as soon as we bolt the floor down. He also installed a swing away tongue wheel. Finally, he got the underside covered with stinky black goo...and almost accomplished everything we wanted to this weekend!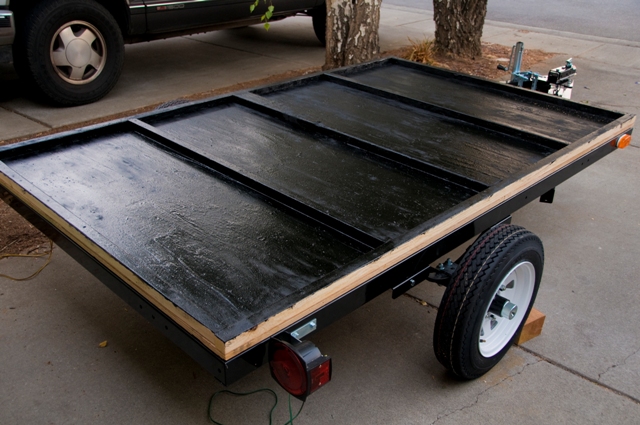 Next weekend, we plan to cut out a template for the sides using 3/8' plywood...sand it and "finalize" it so we can use it with the router to cut the side profiles.
We've been so excited it's great to actually get started.