WARNING:

This is a

BIG

table, the parts for this table are

BIG

.
It comfortably seats 8 "ample" adults with elbow room. If you are looking for something more suitable for transporting in a teardrop I would suggest the
TearTable
.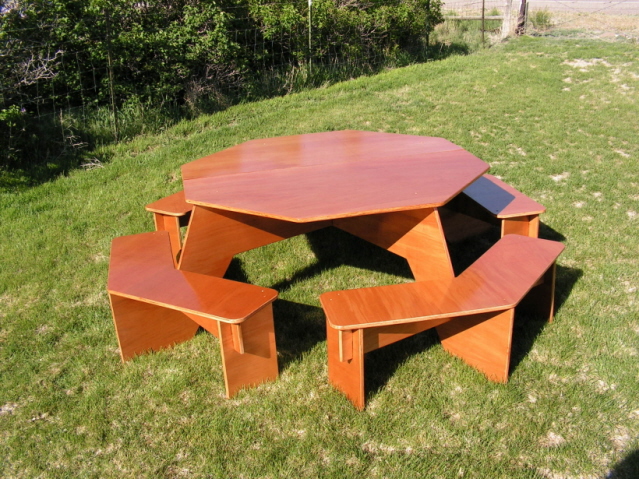 I sell the plans for this table on consignment in a local hardware store for $10 US. My "cut" is $8. I am willing to send the PDF file (2.64 MB - make sure you have room to receive it) for the $8 (cut out the middleman.) I don't have the ability to take credit cards, but I will take cashiers or personal checks. If you would like the plans, send payment
AND E-mail address
to:
Corwin Christensen
PO Box 64
Junction, UT 84740
I am generally the trusting type and to avoid making anyone wait any more than necessary, E-mail or PM when the check is in the mail and I'll send the file (at least as long as no one makes me rethink this policy.)

Currently the dimensions on the plans are in inches, however, if there is demand for dimensions in metric I can and will rework them (the first request will probably take a few days.) I have to remember this is an international forum.

----------------
This table requires 3 - 4' x 8' x 3/4" sheets of plywood, a 36" x 3/8" hardwood dowel, wood glue, finishing materials, and a 48" piano hinge if you choose to have a folding table top. The instructions with the plans suggest CDX plywood, however, over the last couple of years I have built a couple that are "furniture grade" and now I recommend spending the extra money for good birch or veneer over birch plywood (the one pictured above is Agathis veneer.) It makes all the difference in the world to the finished product. On the "cheap" side, I've built one out of OSB with marginal results (it worked fine, but was obvious that it wouldn't last long.)
The table assembles/dis-assembles easily without tools and stacks flat against a wall for storage.
The table top is 58" flat side to flat side and the two halves can be either be glued together (spline or dowels) or attached with a piano hinge for a folding table top. The table legs are 96" long and almost 28" high (waaayyy to big for a teardrop and some tiny trailers). Eight "full size" adults sit comfortably around the table and I have on occasion seated 12 pre-teen children around it.
The plans have 3 - 8.5"x11" sheets that contain the layout to get the parts from each sheet of ply, and there are several additional pages of detailed step-by-step instructions, pictures, suggestions, etc.
If you have any additional questions or comments feel free to E-mail or PM me.
Thanks