Trying to simplify my plans to at least get something going. Basically this is my Post Modernaire redone using a flat frame, torsion axles, and flat panels.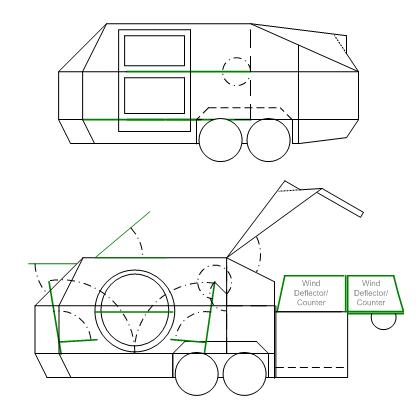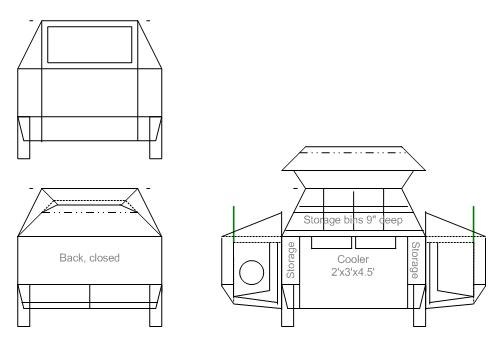 We have 4 kids and cover a lot of ground when we travel so having a ready galley and a minimum of setup in general is a big part of the goal.
And of course flexibility dealing with whatever might arise.
The inside has enough room to be configured as either two levels of queen size space with more space under the bottom bed for storage, or as table and benches. Presumably the kids would want to sleep in tents and the van would also be available to sleeping in during bad conditions.
The front window pivots forward and up, the top window and allows more headroom when sitting.
The sunroof opens fully to allow easy access to the up bunk.
The doors on sides open upwards to provide protection from sun or rain and have windows above and below the beltline.
Though on the large end, size should be small enough to fit in the slipstream of the Caravan.
The Galley is a clamshell provide greater storage and minimal setup to get to meal preparation. With the folding panels it will provide additional work space when flat or wind and weather protection when up.
I am thinking that at the first try with this I will build sides out of 1/4 or 3/8th with struts, spars etc. when needed for additional strength or anchorage, and no insulation. To fasten on the clamshells welding a vertical bar with triangulation support to mount the hinges too.
The exterior fiberglassed to seal water out and then covered in aluminum.
Any thoughts, should I take a smaller first step, change something, am I missing something I should pay attention too...
Thanks, Beej